Korn and Alice in Chains
Shoreline Amphitheatre
September 4, 2019
Photos by Raymond Ahner
Devoted is an understatement—nearly 20,000 cheering fans packed Shoreline Amphitheatre for a lineup straight out of 1999. Nu metal icons Korn paired perfectly with grunge legends Alice in Chains, even if you couldn't picture the pair touring together in their heyday.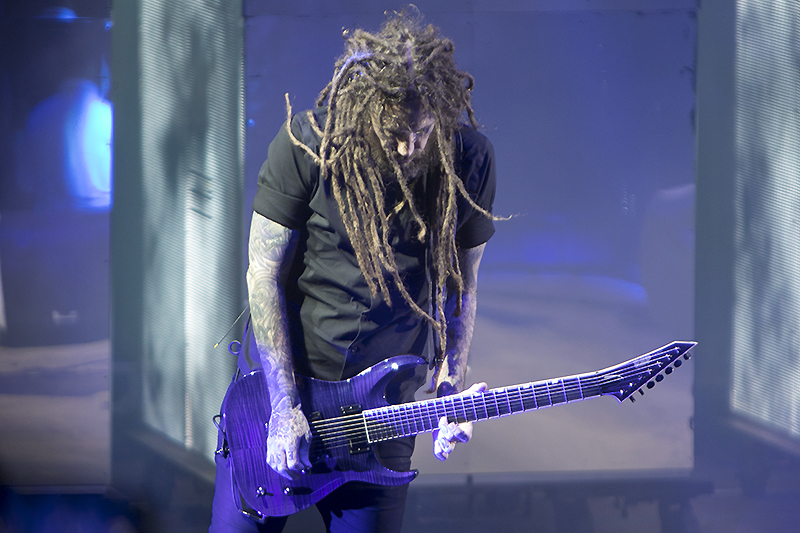 Scuzzy opening chords of "Here to Stay" (Untouchables, 2002) crept across the crowd. Within seconds mini circle pits broke out across the grassy hilltop. Korn frontman Jonathan Davis stood behind his specially designed bio-mechanical mic stand, which was commissioned by the late H.R. Giger. Dancing across the stage, his gold suspenders drooped behind him. And in true maestro fashion, he threw his chest forward, hunched, and bounced with the lyrics.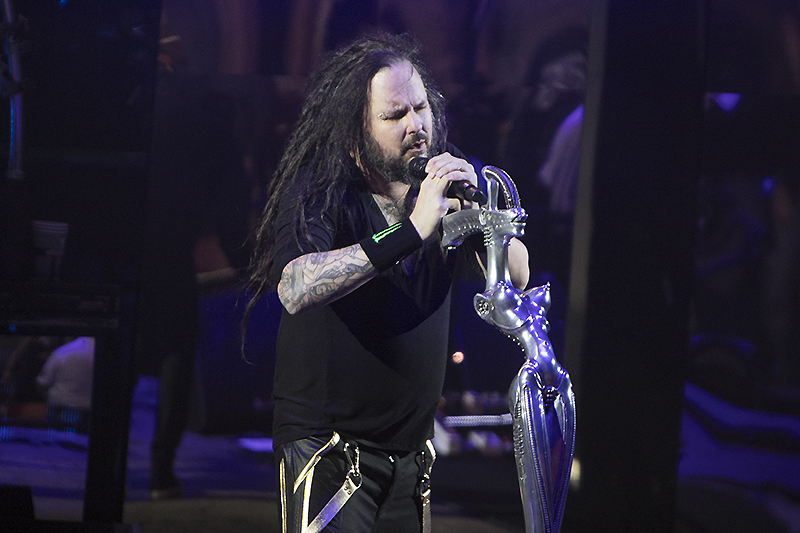 They kept it old school from the start, playing "Blind" and "Divine" off their 1994 self-titled album. They only played two recent tracks all evening—Rotting in Vain (single, 2016) and "You'll Never Find Me" (Can You Hear Me, You'll Never Find Me, 2019).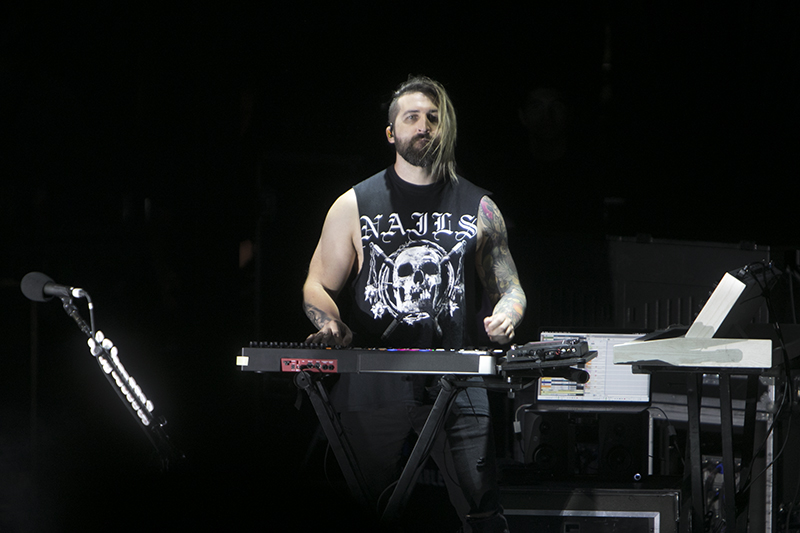 Originators of nu metal, Korn got their start in 1993 and still tour with most of their founding members, including guitarist James Shaffer (Munky), bassist Reginald Arviz (Fieldy), guitarist Brian Welch (Head), and Davis. Ray Luzier has been drumming since 2007. Before becoming a megastar in the 1990s, Davis wanted to be a mortician. Even after ditching that path, he's always reached an audience that understood what it felt like to be different. Depressed. Anxious. Alien. However it manifested, Korn created a safe haven to be weird and lost but loud and visible.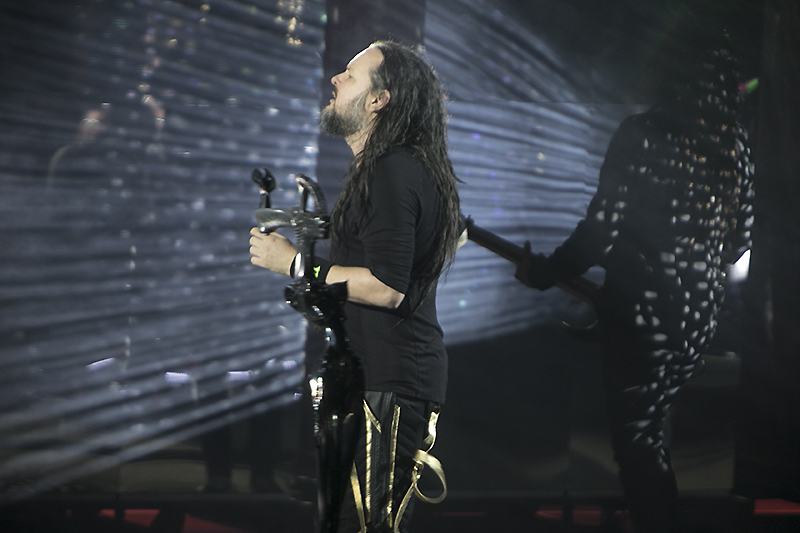 After a sick drum duet with The Fever 333 drummer Aric Improta, Davis reappeared strapped with bagpipes. Dipping into "Shoots and Ladders" off their 1994 self-titled record, it soon shifted into a cover of "One" by Metallica, before coming full circle—"Nick knack paddy whack give a dog a bone!"
Arguably one of their biggest hits, "Got the Life" (Follow the Leader, 1998) got everyone dancing. Davis' pipes are as strong as they were 20 years ago, and the seasoned band sounded as big as their stunning lightshow. In fact, the crazy flashing lights, moving parts, intricate backdrops, and props were just a sweet cherry on top.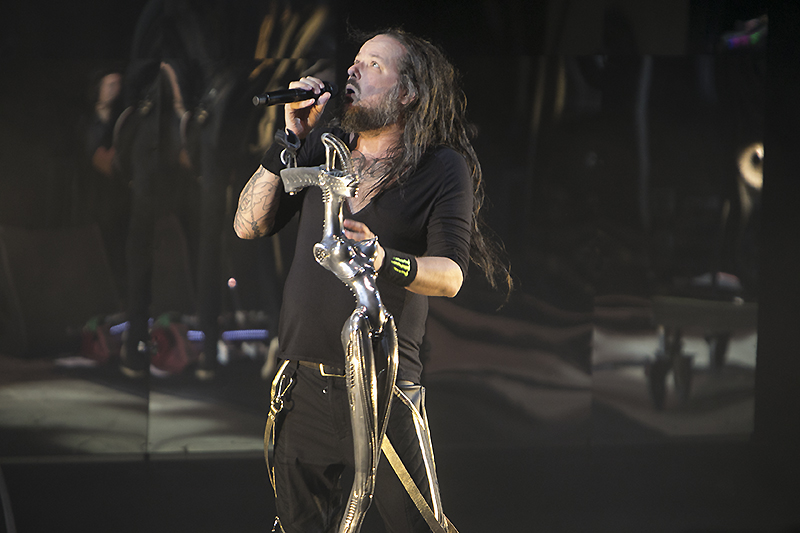 They kept it grooving, playing "Make Me Bad" and "Somebody Someone" off 1999 record Issues, before wrapping up with "Freak on a Leash" (Follow the Leader, 1998). When they left the stage, the crowd threw up their fists, stomped the concrete, the dirt, and the grass. It was clear they needed more, and Korn was ready to give 'em some.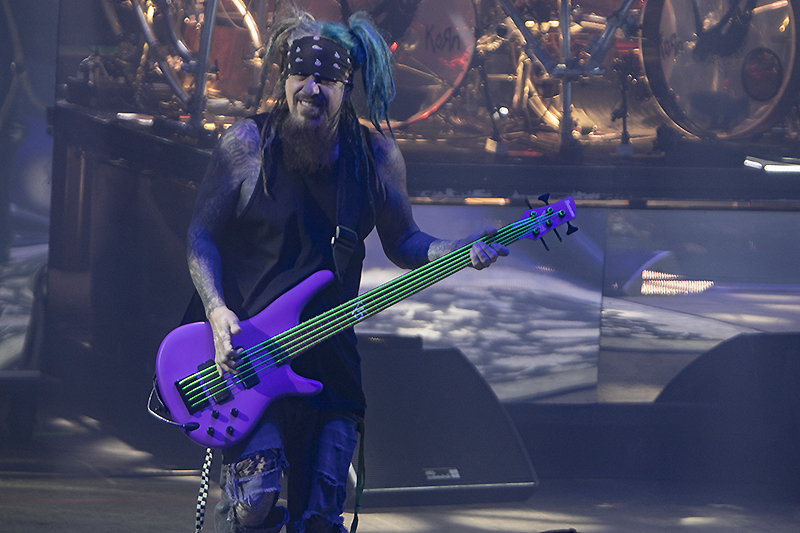 Playing a four-song encore, Davis started spastically grunting before screaming "Twist!" After "Coming Undone" (See You on the Other Side, 2005) the band ended the evening with "Falling Away From Me (Issues). But not before inviting Alice in Chains on stage for a final photo that wrapped up an amazing tour.
"Thank y'all for being the most amazing fans in the fucking world!" Davis screamed.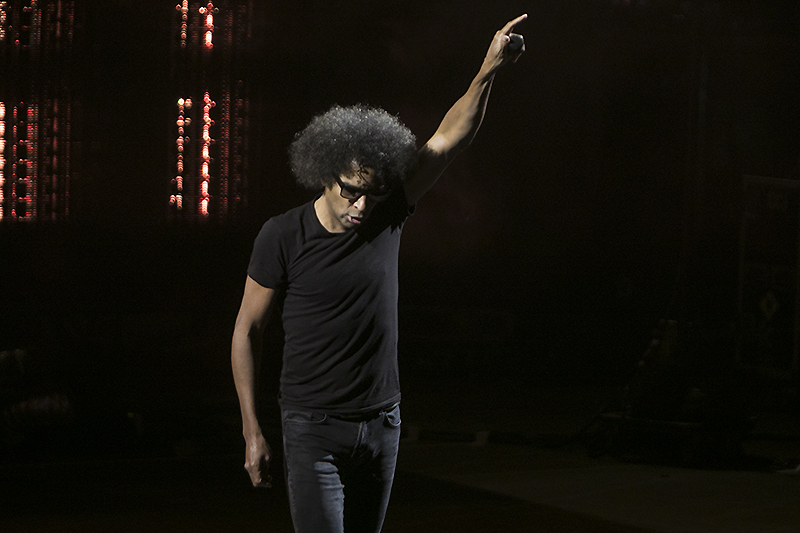 Korn may have topped the bill, but it was Alice in Chains that set off a beautiful night. The Seattle grunge-metal icons have a slightly different look than they did in the 1990s. Guitarist and vocalist Jerry Cantrell is half cowboy, half wizard. His long grey hair hung down to his guitar. Today, he harmonizes with William DuVall, who's played with the band since Layne Staley's tragic passing in 2002.
But don't be mistaken. DuVall has a presence all his own. Strutting across the stage, he effortlessly belted out the high notes. If you closed your eyes, you heard Staley. But when you opened your eyes again, DuVall commanded his space. And it was an absolute treat to watch.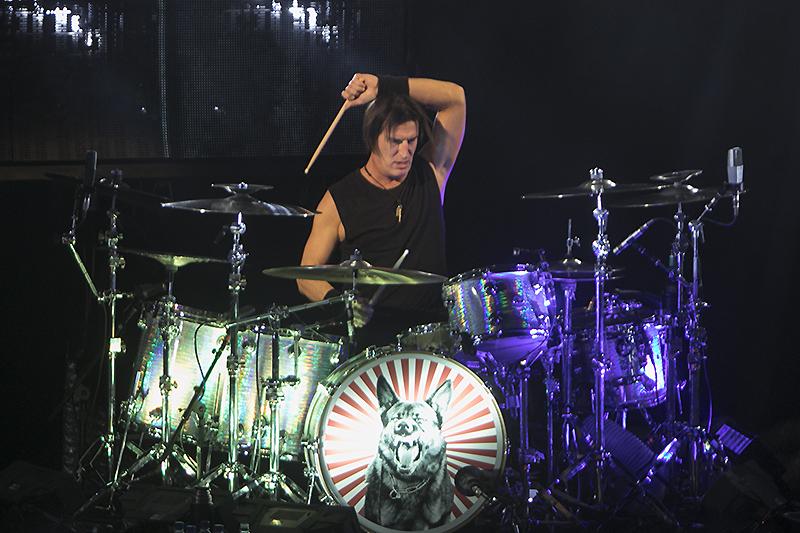 Longtime Alice in Chain fans won't be disappointed at a newer gig. The band gives you what you want—a slew of nostalgic tracks. The crowd went nuts to opener, Angry Chair (Dirt, 1992). And they continued to play songs tied to adolescent pain, suffering, and transformation.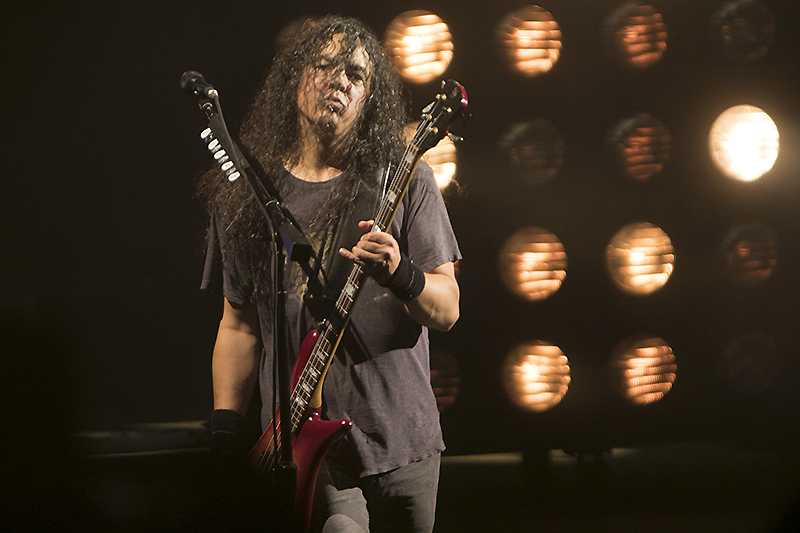 Known for its distinctive wordless opening melody, they next played "Man in a Box" off their 1990 album, Facelift. Cantrell has said they found themselves as  band when writing that song. DuVall's high-pitch, tense vocals honored what makes Alice in Chains special. By the time they played "Nutshell" (Jar of Flies, 1994), the crowd was flicking lighters and holding up their phones. The house lit up, lovers swayed, friends held each other, and loners nodded along.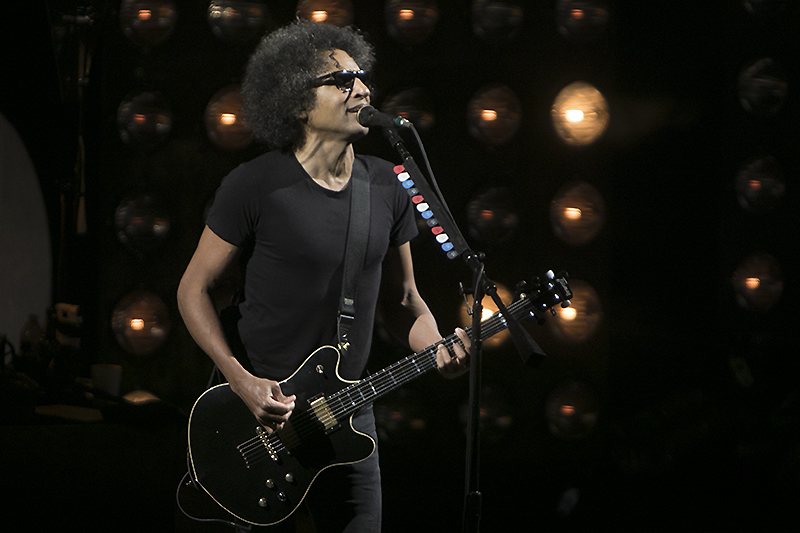 "This is for Layne Staley and Mike Starr," yelled Cantrell.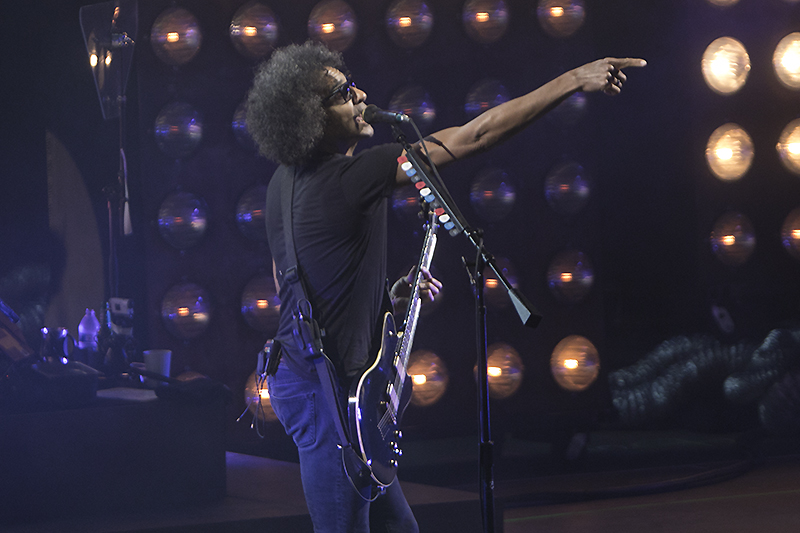 They also played a handful of newer tracks, like "Check my Brain" (Black Gives Way to Blue, 2009), "Hollow" (The Devil Put Dinosaurs Here, 2013), and "Rainier Fog" and "The One You Know" (Rainier Fog, 2018).
Korn's bassist Munky hopped on stage and played "Them Bones" off their 1992 record Dirt. Pulling most from Dirt and Facelift, the band closed the night with their most beloved song, "Rooster."
Underoath and Fever 333 opened the show. Here's a slideshow with photos by Raymond Ahner of both openers:
Korn:
Setlist: Here to Stay I Blind I Divine I Rotting in Vain I You'll Never Find Me I Twisted Transistor I Shoots and Ladders (with elements of One by Metallica) I Got the Life I Make Me Bad I Somebody Someone I Freak on a Leash II Encore II 4 U I Twist I Coming Undone I Falling Away From Me
Find out more about Korn here.
Alice in Chains:
Setlist: Angry Chair I Man in the Box I Check my Brain I Again I Them Bones  (with Munky) I Damn that River I Hollow I Rainier Fog I No Excuses I Nutshell I It Ain't Like That I We Die Young I The One You Know I Would? I Rooster
Check out Alice in Chains on their website.
Underoath:
More info on Underoath can be found here.
Fever 333:
Everything you ever wanted to know about Fever 333 is here.