Sleaford Mods
Great American Music Hall, San Francisco
May 3, 2022
Photos by Geoffrey Smith II
Are you looking to become more physically active and need a little inspiration? Then I highly recommend the Sleaford Mods Concert Workout. Join one of their sessions, and you'll receive nearly an hour and a half of continuous, motivating music accompanied by lyrics that will keep you amused and entertained while also lamenting the ridiculousness of our current society and its pop culture. Turn to instructors Andrew Fearn, who provides the background music and high-energy dance moves, and Jason Williamson, who also provides dance instruction, but focuses primarily on the inspiring lyrics that will keep you moving, even during the onset of fatigue.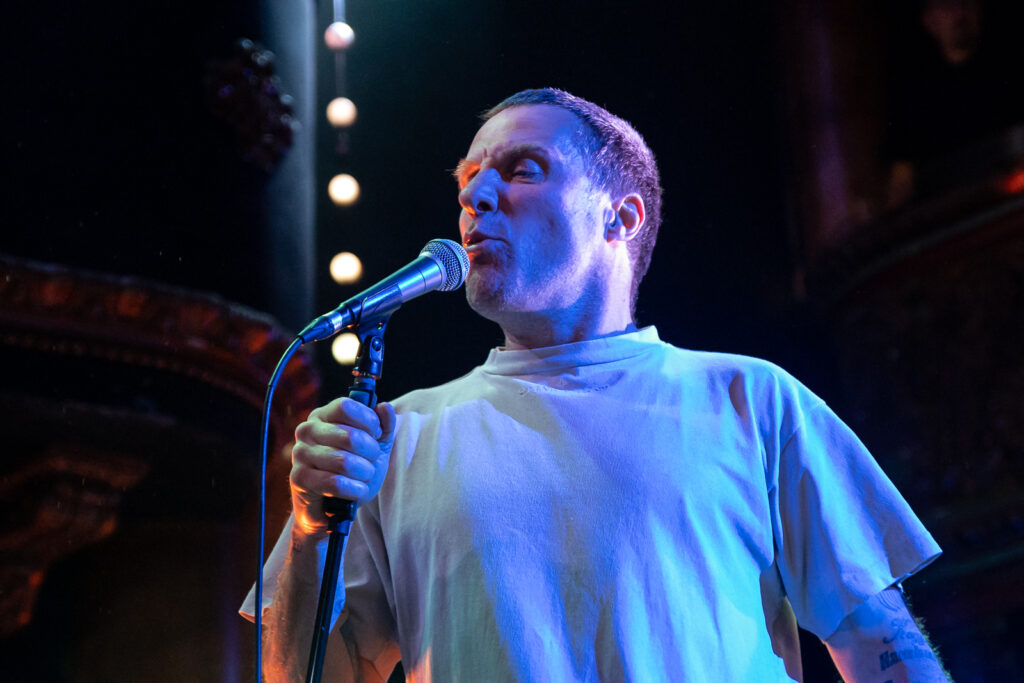 England's Sleaford Mods shimmied their way onto the stage of the Great American Music Hall this past May 3rd, on tour in support of their latest album, Spare Ribs. This is the second time the post-punk duo of musician Andrew Fearn and vocalist Jason Williamson have made their way to the United States, and they've managed to earn a large, dedicated fanbase in a short amount of time, with many shows — San Francisco's included — being sold out. According to venue staff, 450 people of the 470 capacity actually showed up! And most folks stuck around for the entire performance! A good portion of the audience — myself included — started losing steam and dancing less aggressively about two-thirds of the way into the performance, but still nodded their heads and swayed with the same enthusiasm until the very end.
Let's talk about the nature of a Sleaford Mods performance, in particular, this one. It's extremely stripped down. Most music duos that feature electronic backing tracks will have a musician who may or may not actually be playing one or more electronic instruments that they stand behind for the duration of the set. Not Sleaford Mods. There's no MIDI controller fakery here. Fearn literally plugs in his laptop, presses play, and dances nonstop for the duration of the set with enthusiasm and a cheerful disposition. Occasionally he'll take a sip of a beer. And this is absolutely, totally fine, and adds a level of charm. He creates all the music, so he gets a pass to just let it play. Similar to an aerobics instructor, his presence on the stage serves to motivate the crowd.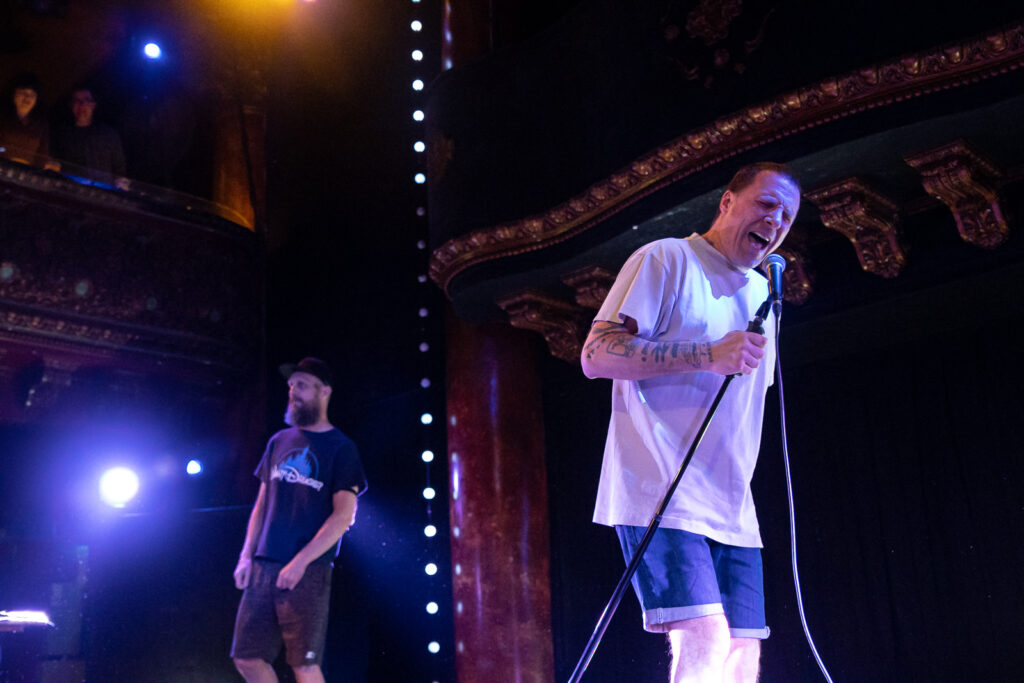 Williamson provides vocals and banter between songs, and also dances, but with a little less vigor to support his vocals. And let's talk about his vocals. He's not a singer. Not really. His style is somewhere between the firm and rhythmic delivery of a slam poet, and the monotone singing of The Streets' Mike Skinner, albeit peppered with vocalized noises and sounds. Sometimes he'll imitate the voice of a posh or nerdy narrator to provide the context to a song. Both members are fairly masculine in appearance, so it's rather endearing to see them dancing both silly and sometimes effeminately, doing little spins and kicking their legs up like some kind of can-can dancer. And it's done with sincerity.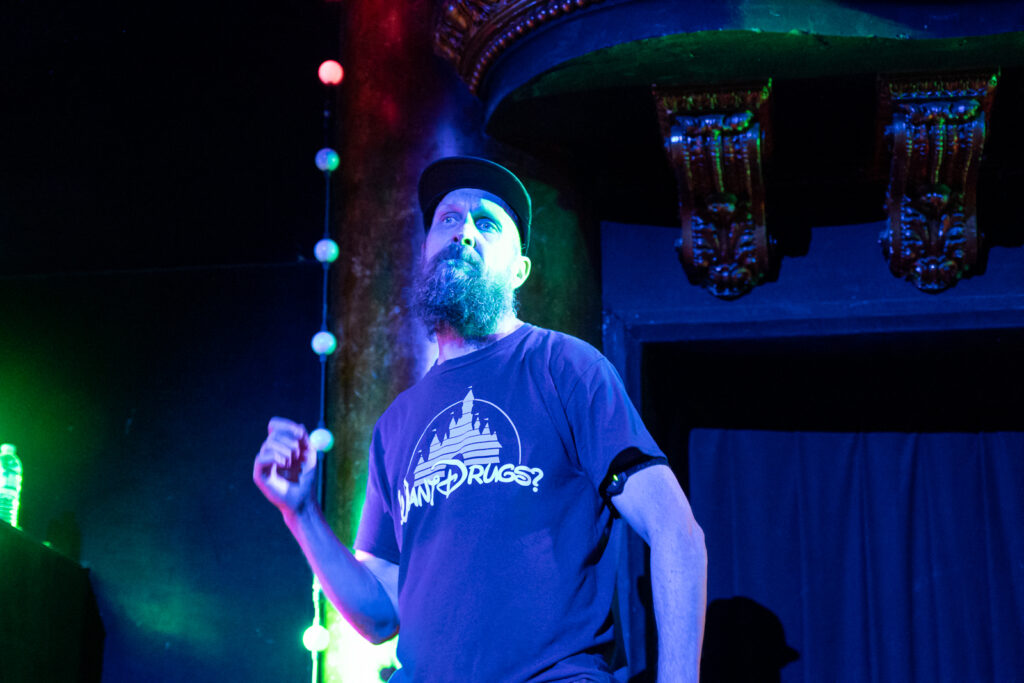 Save for a mic stand and a small table to accommodate their laptop, the stage is free of any props, backdrops, screens, or other distractions from the two entertainers onstage. And I feel that's an appropriate term for them. When you strip down a performance to this level, you find yourself not only engaged in the lyrical adventures and their facial expressions but in every little gesture and movement they make. Williamson sticking a water bottle to his forehead as if he's a rhinoceros, or Fearn changing up his dance moves are somehow captivating with a spotlight shone on them and keep the overall vibe light.
Of course, this all assumes you enjoy their music. It's hard to describe Sleaford Mods' sound. They're one of many incredibly varied acts lumped into the "Post-Punk" genre, but they borrow from a lot of different styles, most notably Grime and Hip Hop, as well as IDM and Rock. Most tracks are somewhat primitive in the sounds used, and some also feature guest vocals. But many are extremely catchy and use repetitive loops and lo-fi samples.
Once your American ear gains the ability to parse his accent and vocal affectations, Williamson's songs have a wry sense of humor and social awareness that gives a little glimpse into the lives of an English everyman, or musician. Their latest album, Spare Ribs, features vocal contributions from Amy Taylor of Amyl and the Sniffers, and Billy Nomates. These are also two of the strongest tracks on the album and seemed to get the biggest response from the crowd. With little filler and a lot of punk rock efficiency, the duo managed to slam through what felt like the majority of their catalog — at least 20 or so tracks. If you have a favorite track, you're likely to hear it. Highly recommended. But wear shoes with good arch support.