Cold Cave
Great American Music Hall, San Francisco
October 14, 2023
Photos by Geoffrey Smith
If you're going to see Cold Cave, there are certain things to expect. Lots of smoke machines, flashing visuals, founding member Wes Eisold wearing a pair of sunglasses onstage, and an audience decked out in all black there to see it all. When the band brought their current tour to the Great American Music Hall, all of those boxes were ticked and then some. But I don't say that just because those are what is to be expected that it's bad. On the contrary, the band has their show down to a science, and it was a treat to get to see them on this current tour.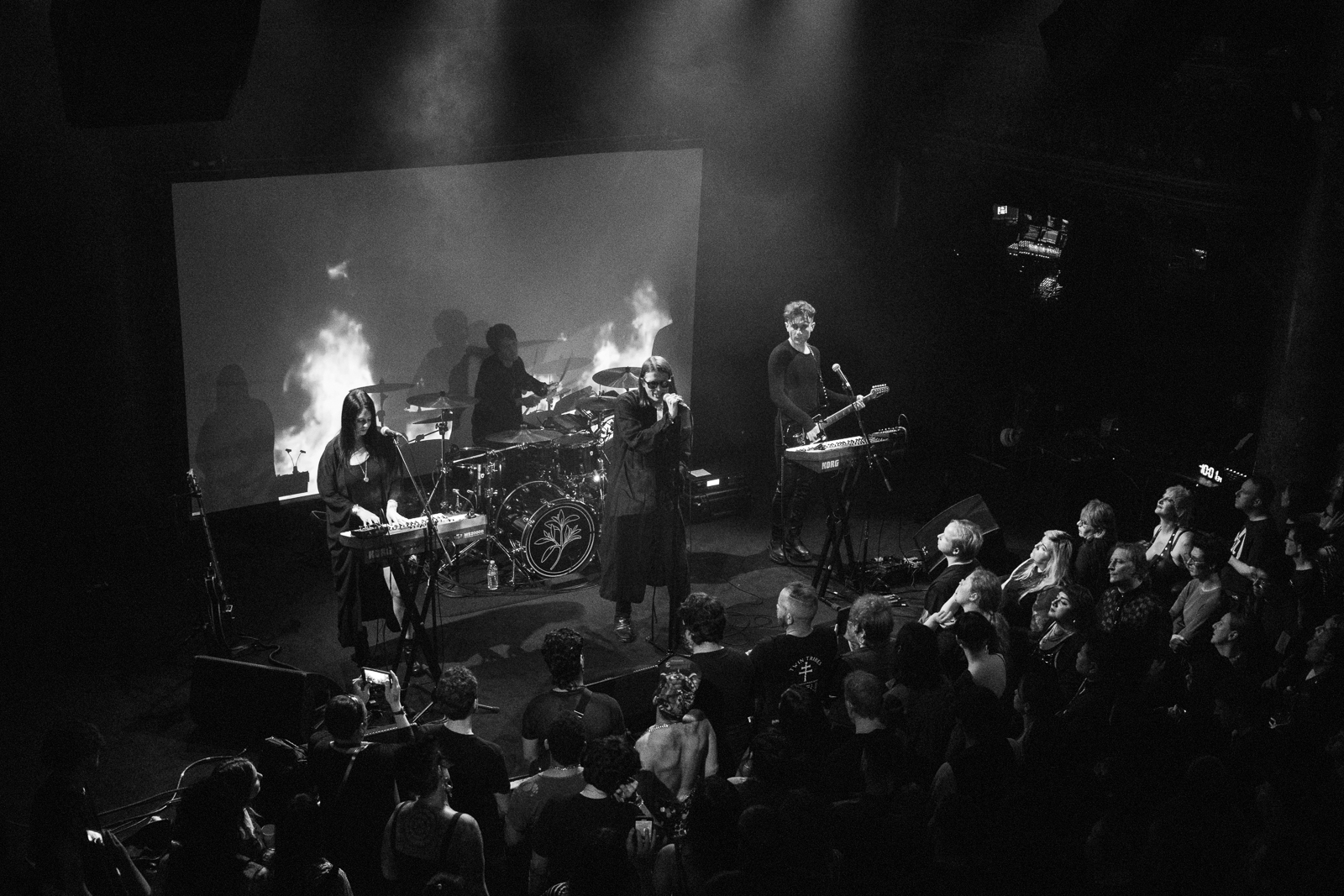 The band opened their set with "Prayer From Nowhere," the opening song from their most recent album, 2021's Fate In Seven Lessons. Amy Lee's distorted bass-playing paired with Anthony Anzaldo's guitar and keyboard leads set the stage for Wes Eisold's pleas of "Love don't take me down, I'm looking for a sign of life to take me to the next one." Indebted to the sounds of bands such as Joy Division and their offshoot New Order, as well as elements of Depeche Mode, Psychic TV, and the more majestic and grand songs by The Cure, Cold Cave's music is as uplifting as it is somber, and this song is a perfect example of that.
What followed was a very similar setlist to when I saw the band headline at The Chapel last year, albeit with some of the songs moved around. Again, this isn't a complaint, as the band performed the songs with just as much power and mystique as ever. The only complaint that I do have was the booming, shaking backing tracks that cut through the air of the venue and felt like a punch in the get any time that a song would ramp up in tempo.
Starting at the halfway point of their set, Cold Cave gave the audience a back-to-back treat of four songs in a row from their 2011 album Cherish The Light Years. "Confetti," "Underworld USA," "The Great Pan Is Dead," and "Villains Of The Moon" all got played one after another, and they all got a tremendous reaction from the crowd. Following that (and closing the main set) was "Promised Land," the closing song from Fate In Seven Lessons. It's a song that I've seen Cold Cave play at nearly every show of theirs I've been to, and it's one that I'm never going to grow tired of. If you asked me to name my favorite song by the band, without hesitation I'm saying "Promised Land," and to see the band play it live feels like an honor. Every time the opening piano motif begins, I know that I'm about to witness something special.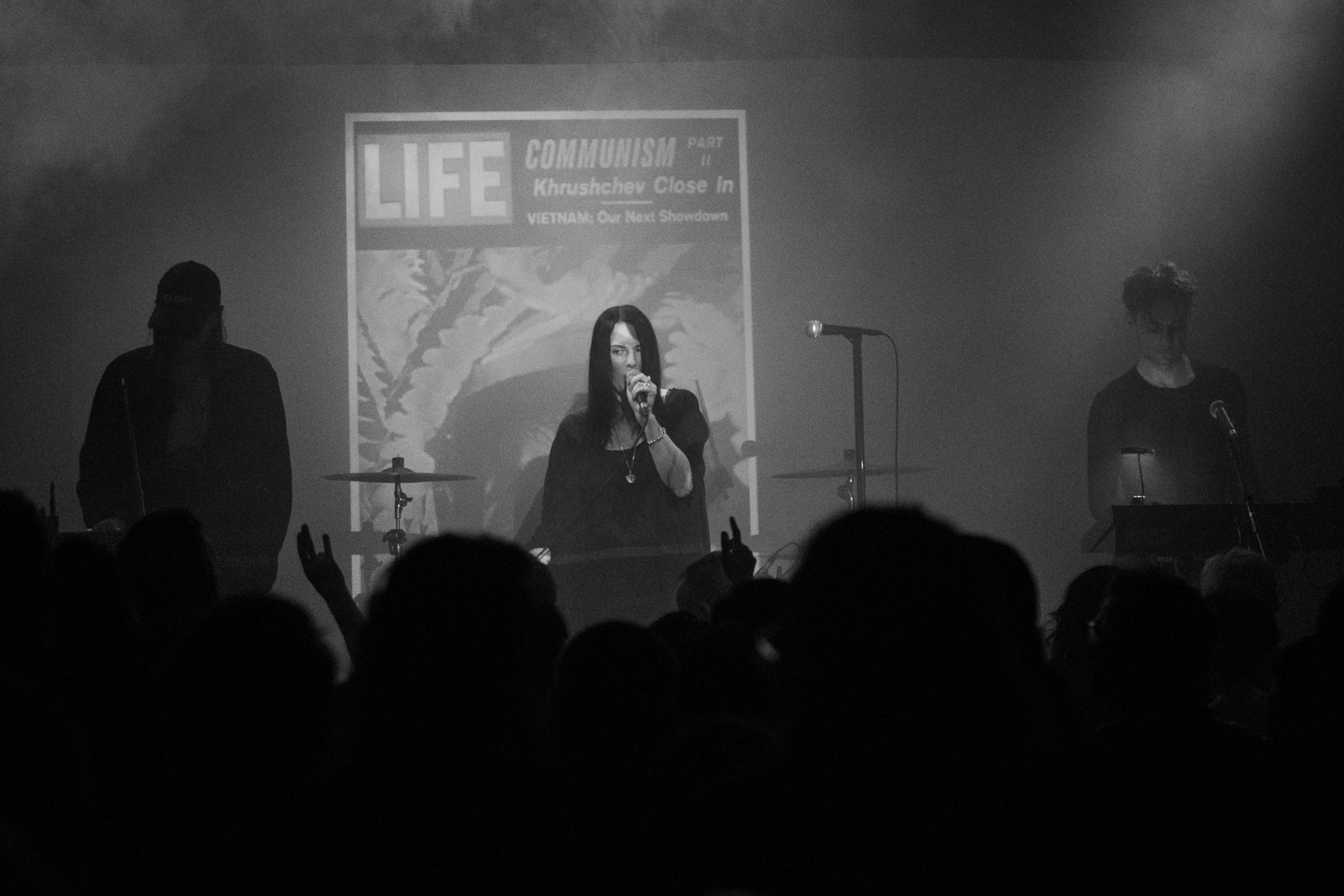 The encore began with two lesser-played songs by the band. First was "Catacombs" from Cherish The Light Years, a song whose pop-leaning instrumentation betrays its lyrics about heartbreak and unrequited longing. After that, Amy took lead vocal duties for "Life Magazine," from the band's debut album Love Comes Close. Following that, the show came to a close with the glitchy and intense "Icons Of Summer," whose flashing visuals and distorted chiptune sound effects had the crowd losing their minds. Cold Cave is a band that needs to be experienced in a live setting, and the closing song was proof of that.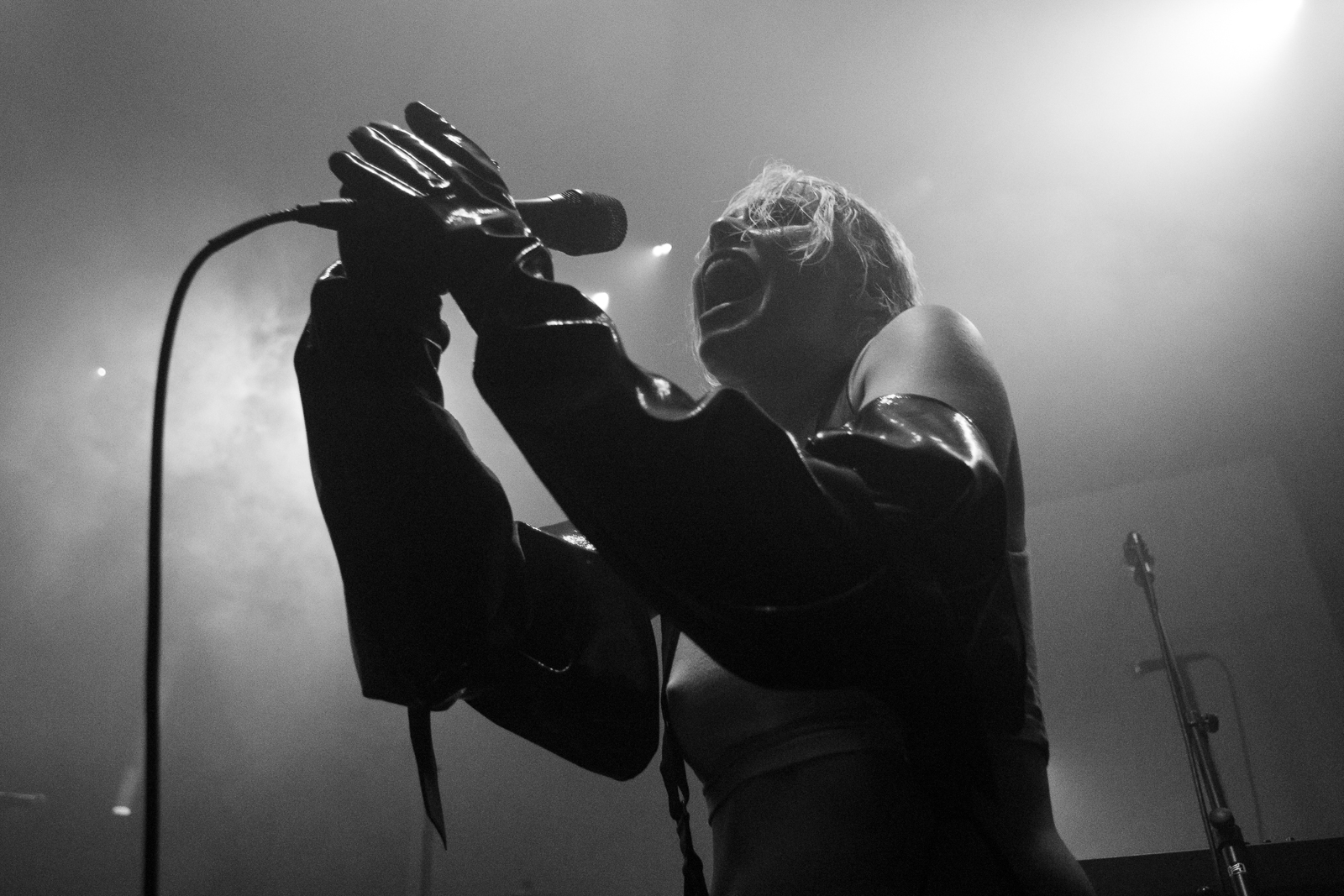 Opening the evening was Riki, the solo project of Niff Nawor, who I also saw opening for Cold Cave last year at The Chapel. Singing songs in German ("Strohmann," "Böse Lügen"), English ("Sonar," "Lo"), and Spanish (a cover of "Porque Te Vas"), Riki had complete control of the crowd, something that's difficult for most solo acts to accomplish. The only complaint about the set that I have is that, despite the inclusion of new song "SAS," the setlist was identical to the other two times that I've seen her. She has some incredible songs that I have yet to see her perform, and hopefully next time she switches it up a bit.
Links: