Alison Krauss and Robert Plant
The Greek Theater, Berkeley
August 18, 2022
Photos by Tom Dellinger
It's a bit surprising to come to the realization that it's been a full fifteen years since the release of Raising Sand. It just doesn't seem that long, but the wait is over and one of the most successful collaborations in rock, country, bluegrass, Americana or whatever you want to call it, have raised their voices once again with the release of Raise the Roof. This past Sunday brought Alison Krauss and Robert Plant's Raise the Roof tour to The Greek Theater in Berkeley for an enchanting evening beneath the California sky.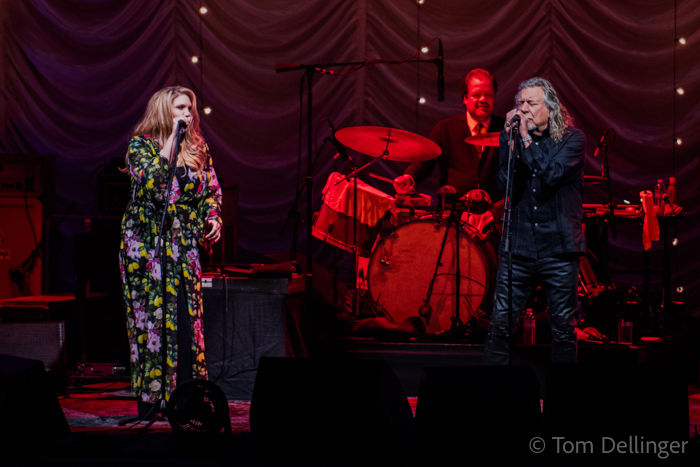 Opening their set, Plant and Krauss launched what is surely one of their most recognizable tunes, "Rich Woman." Right out the gate, the sound that has defined this duo came roaring to glorious life. It's a sound that is wide and filled with great warmth from the rhythm section as the vocals floated above the mix whether singing solo or in their unmistakable harmonies. The band was in top form and created a rich sonic tapestry throughout the night with plenty of highlights along the way. The set design was another element that added to the richness of the evening. The intermingling of light changes against the hanging fabrics that defined the back and sides of the the stage was a constant feast for the eyes.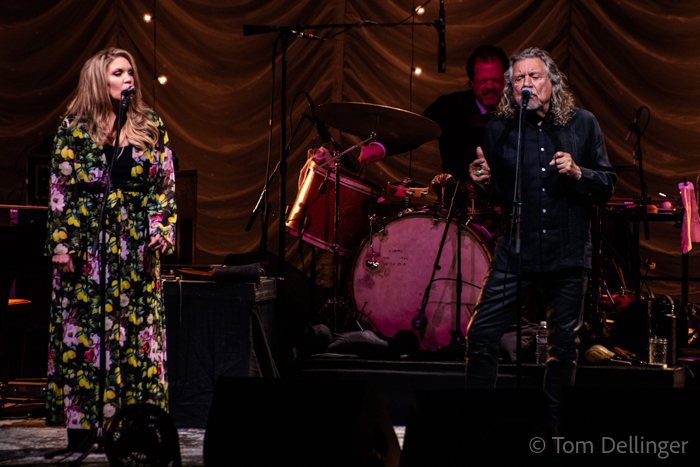 Drawing mostly from the more recent work, Raise the Roof, they covered most of the favorites, though there are a couple I still would have loved to hear. A personal favorite is Calexico's haunting "Quattro" which they played early in the show. Another standout was when they reached outside of their recordings with a stunning and dramatic performance of "When the Levee Breaks." A totally reimagined performance which made it their own.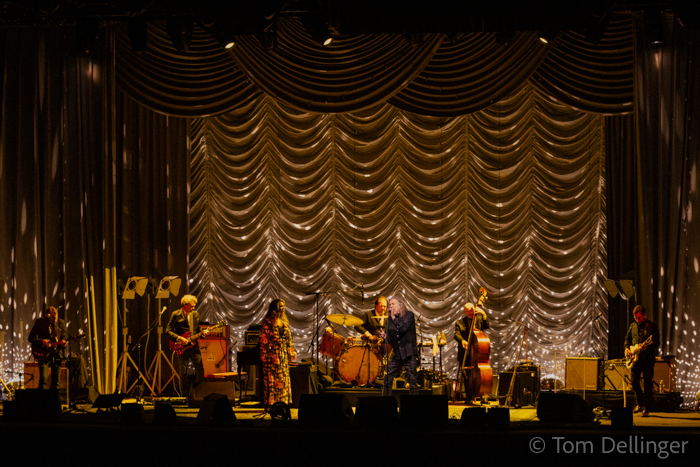 As collaborations go, this is one of the greats. It's interesting to witness two of the finest vocalists in their seemingly disparate genres find such fertile ground. But find it they have and with the release of Raise the Roof, it's obvious that it's no one time thing. Robert, for his part still retains many of the characteristics that made him the great rock vocalist of past years and it still works exceedingly well in this very different setting. It's something I admire in him. He has continued to evolve and create new work with great success. Alison, not surprisingly, was mesmerizing. Whether as a solo vocalist or in harmony, or on fiddle, her light was lit. 
Opening this night was JD McPherson and his band. Probably best know for his songs North Side Gal and Firebug, they delivered a well paced set that got the fans energized. His sound draws from trad rock and roll, rockabilly and rhythm and blues and is deftly handled by him and his band. JD would see double duty as he would also appear as guitarist with Alison and Robert.
Here's a slideshow with more photos of the performers by Tom Dellinger:











Links:
Robert Plant and Alison Krauss
Setlist: Rich Woman/Quattro/Fortune Teller/The Price of Love/Rock and Roll/Please Read the Letter/High and Lonesome/Last Kind Words Blues/You Led Me Wrong/Trouble With My Lover/Go Your Way/It Don't Bother Me/Leave My Woman Alone/The Battle of Evermore/When the Levee Breaks/Gone Gone Gone//Can't Let Go