City Pop
Benny Sings
Stones Throw Records
Can't front. On first listen to "Not Enough", the funk adjacent low-simmer bop from Benny Sings, I swear to the Power of Terrestrial Radio, I got transported to the 2009 Lipo Lounge Basement in San Francisco's Chinatown for my Sunday dose of Sweaterfunk. Co-written and co-produced by Mayer Hawthorne, the tune possesses a close intimate quality that you only want to divvy among friends. While grooving to the stout piano work and heartfelt frankness crooned in earnest by Tim van Berkestijn, everybody on that sweaty basement dance floor would be thinking: Public ain't worthy of this right here.
His new album, City Pop, finds Benny Sings making grown ass melancholy numbers that show a ripened outlook on existence. Sometimes love runs out the door for a pack of smokes. Point is, heartbreak provides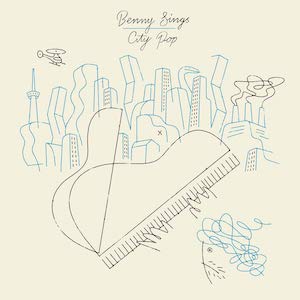 fodder for great songwriting and Berkestijn could write jammers from a Craigslist Missed Connection listing. "Everything I Know" finds Benny pouring all his AOR, soul, jazz, and pop vocal superpowers into a piano ballad mixing bowl, knowing the worst outcome is probable. Hope does not win out. The tone is crestfallen. And on the lead song, we believe the shit out of this dude.
The patina his eleven songs travel through offers some choice entry points for new recruit fans to get familiar with. The aptly chosen Stones Throw label gives ease and credibility to his snackable piano motifs and cunning breakbeat arrangements that get peppered ever so lightly with crinkles and pops generated from dusty record grooves. It's a really nice touch only a committed audiophile would make.
Speaking of which. The influence of 70's soft-rock Gawds and masterful singer-songwriters Kenny Loggins and Michael Franks cannot be ignored here. You can even catch a skosh of post-disco Bee Gees magic in the mix. Publicists have chimed in to make an apt Hall and Oates reference as well. HEY…It's a "deep crate" IQ on display. No matter where Benny may land on the spectrum, all references to funky blue-eyed dudes are perfected WITHOUT irony. Much respect in fact. His falsetto, transparent and all up in the meta feels, coupled with the less-is-more jazz phrasing on the piano, points to an "I am a musician first" credo. It keeps Benny and his soft-rock brand, legitimate.
City Pop is out February 22, 2019, on Stones Throw Records.
Watch the video for "Not Enough" by Benny Sings: