The Claypool Lennon Delirium
The Fillmore San Francisco CA
December 31, 2018
Photos by Elizabeth Gohr.
The Bay Area's beloved bassist Les Claypool continued his course of New Year's Eve celebrations with his most recent side project, The Claypool Lennon Delirium at San Francisco's most historic music venue The Fillmore. Taking a brief break from his elder offshoot Primus and altering into a different mind frame with the Delirium, Claypool carried on his 27th New Year's Eve jubilee holding it down for a memorable night every year. This was made quite apparent at a 2012 Primus NYE show with a direct quote of him declaring, "We're just gonna keep on goin' until the wheels fall off this son of a bitch!"
Colonel Claypool, the cosmic conductor of creativity, undeniably has tapped into almost every avenue of artistic venture known to stimulate the minds of mankind throughout his booming pilgrimage. Having dipped his brush into the realms of literature, cinema, and winery and bubbly beverages, Claypool gradually fills every inch of the canvas with imaginative music thanks to his eclectic side projects that he has weaved in, out, and amongst the course of Primus' orbit, proving this rocket still has plenty of propulsion.
The Claypool Lennon Delirium incantation brewed from a mystical collaboration with Sean Lennon, the son of Beatles guitarist and music legend John Lennon. Sean has been active in the music scene with his band The Ghost of a Saber Tooth Tiger and found compatibility with Claypool when he joined the stage with Primus for the song "Southbound Pachyderm" in 2015. Their debut album Monolith of Phobos was remarkably recorded and produced by just the two of them and surfaced on this planet in 2016. The joint forces of their supernatural abilities quickly became a metaphysical musical phenomenon and the group plan to release their second studio album on February 22 called South of Reality with a tour to follow in April.
The sold-out Fillmore was populated with festive energy flowing amidst the beaming spirits ready to be launched into an otherworldly space rock voyage. The Claypool Lennon Delirium greeted this energy with both movements of the song Cricket and the Genie as Claypool got the heads bobbling along with his bouncy cadence on his signature Pachyderm bass to kick off the journey. Lennon also nicknamed 'Shiner' by Les, possibly paying homage to the Captain Shiner mascot of Primus' Tales From The Punchbowl album or by Sean justifying this with his ultra-sparkly sequined jacket, silver shoes, and shiny BilT guitar added in his array of effects and astral vocals to spruce up the psychedelic aura. Joining the Delirium was fellow Claypool bandmate from the Fancy band and former member of Cake, Paulo Baldi on drums and João Nogueira gifted his celestial spin on keys and synth.
The Delirium cycled through material from their first album, The Monolith of Phobos and descended into their cover EP Lime and Limpid Green touching base with Pink Floyd's Astronomy Domine and King Crimson's The Court of the Crimson King eerily permeating the essence of these cult classics. A considerate handful of new material was played from the upcoming album South of Reality, with the same titled song a perfect precursor to the end of the year with its hypnotic vocal harmonization swirling in a spellbinding rhythmic ride into the weightless depths of the cosmos.
The Earth has now completed another revolution of the Sun and a new solar year has begun. The Fillmore quickly became a frenzy in a swarm of balloons and exuberance while Lennon gave a shout out to his mother Yoko Ono noting her attendance that evening. The bass started thumping into a cover of The Who's "Boris the Spider" complete with an extended tasty jam that peaked with a combustive drum solo from Baldi and sensationally oozed throughout the sea of ear holes while opening many a mind's eye.
The conjuring of magical mischief arose to its pinnacle when a Beatles cover, "Tomorrow Never Knows," was transcribed in a higher dimension as the exquisite spirit of the song was brought to life like never before. The encore of the night illuminated a Primus cover of "Southbound Pachyderm" and joined by Larry LaLonde announced as "Larry Garcia" as he resembled the late guru guitarist Jerry Garcia with a big gray wig and fake beard. The dark twisting tale was woven into a web of combined genius, as the song gave way to unscripted musical conversations and with Lennon and Lalonde overlapping their technicality for an overload of sensory euphoria. The odyssey through this wormhole may have simulated an end but will traverse as a satellite in the subconscious infinitely.
To much surprise, an old relic side project of Claypool's called Beanpole was brought to life and performed live for the first time since 1996 to open the evening. This band got its second wind decades after its launch when Claypool introduced it to Lennon, who immediately took such a liking to this oddly peculiar project that he resurrected it from the dusty vaults and released their album on his own record label last fall. Beanpole initially stemmed from the imagination of guitarist/vocalist Derek Greenberg with the general idea of just having fun and sharing laughs, not necessarily with the notion of releasing it to the public and definitely not to be taken seriously. Primus guitarist Larry LaLonde was also a big part of the project and donated his array of bizarre carnival licks to the mix, with Claypool playing drums on a handful of tracks. Adam Gates (also known as Bob Cock to the Primus fans) plays bass and vocals, Darin Wilson on piano, keyboards and vocals, Tom Muer on keyboards, Geoff Marx on drums, and Matt Winegar on guitar and vocals.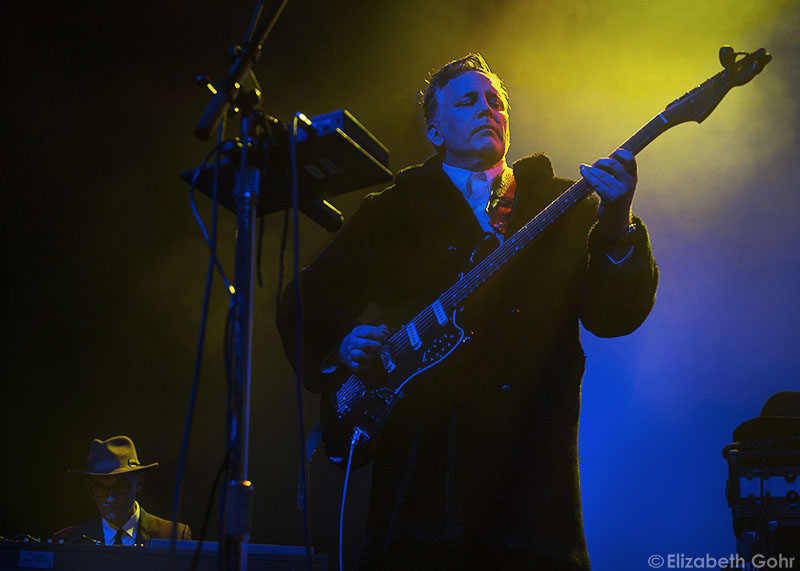 The live set proved their silly sense of humor enough to crack smiles on all the faces paired with expected subtle confusion. Greenberg led the ensemble through farmer family themed folk rock with storytelling narratives to the fun back stories of the songs. Gates added in his synthetic helium infused vocals on songs like "Sponge Boy" and "Pumpkin Pickin' Time" that made for cartoonish laced auditory hallucinations. Claypool also made an appearance in his pig persona to drum for the song "Chicken Boy," and the quirky set greatly succeeded at evoking animated randomness with the newfound again Beanpole completely revitalized.
Claypool Lennon Delirium:
Setlist: Cricket and the Genie (Movement I, The Delirium) | Cricket and th e Genie (Movement II, Oratorio Di Cricket) | Breath of a Salesman | Astronomy Domine (Pink Floyd) | Blood and Rockets: Movement I, Saga of Jack Parsons – Movement II Too the Moon | Mr. Wright | Boomerang Baby | Easily Charmed by Fools | The Court of the Crimson King (King Crimson) | South of Reality | Boris the Spider (The Who) | Cricket Chronicles Revisited: Part 1, Ask Your Doctor – Part 2, Psyde Effects | Tomorrow Never Knows (The Beatles) | Southbound Pachyderm (Primus cover with Larry LaLonde)
Find out more about The Claypool Lennon Delirium here.
Beanpole:
Setlist: His Name is Beanpole | Embryo | Farmer Loved an Onion | Grandma | Sponge Boy | Children in Your Garden | Chicken Boy | Cousins | Judge Wapner | Pumpkin Prickin' Time | His Name is Beanpole Reprise