Reverend Horton Heat
Slim's
January 25, 2019
Photos by Raymond Ahner.
The Reverend Horton Heat exude classic rock 'n' roll — they're a whole lot of rockabilly, and a little bit punk, country, surf, and jazz. They've been riling up fans with thundering guitar runs for decades. It's no wonder a sold-out crowd packed Slim's in San Francisco for a night of rockabilly gospel.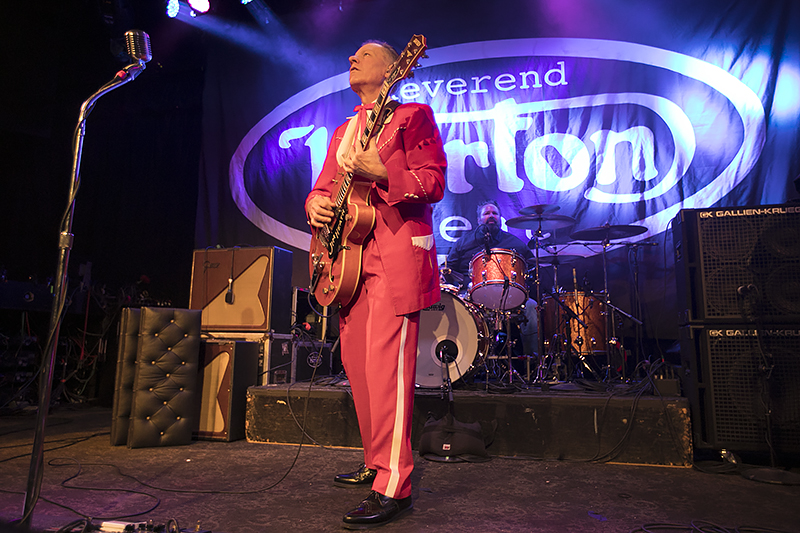 Looking around you'd swear it was 1950. People were dressed to the nines — retro pompadours, greased back hair, bandanas, pin skirts, swing dresses, and cuffed Levi's. Frontman Jim Heath graced the stage donned in a bright red suit and strapped with his signature Gretsch guitar. Heath's got swagger and a sense of humor. Watching him play is like watching a man corral a wild animal, with a bit more rhythm of course.
Jimbo Wallace slapped his upright bass on the right of the stage. The band just added two new members — drummer Arjuna "RJ" Contreras and rock pianist Matt Jordan. The fusion of forces captured the crowd's attention from the start.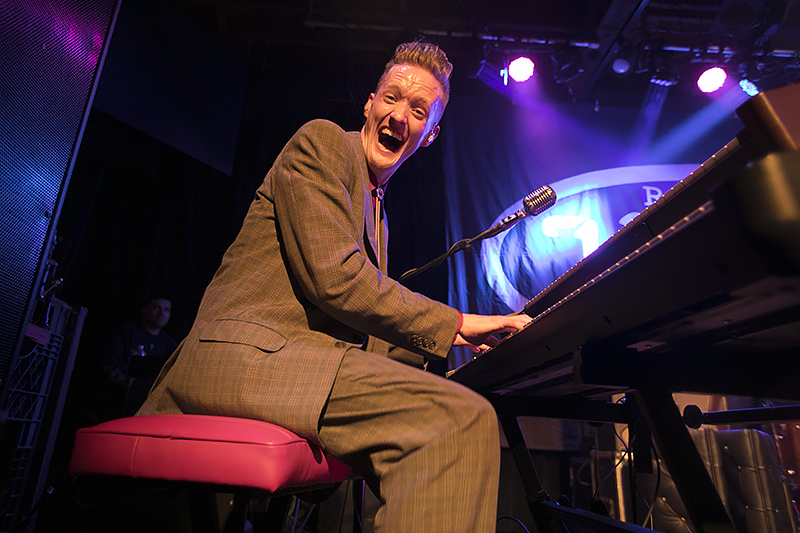 They kicked off the night with new twangy tune, "Ride Before the Fall" (Whole New Life, 2018). Heath took voice lessons for the first time in his career before recording their latest record, which he said is one of the band's best albums. But his voice came later — this instrumental track showcased his premiere guitar pickin' skills and amped the crowd for a night of good ol' fashion fun.
Picture The Beach Boys on acid. Actually, that's not a far-fetched concept. Add a little Dick Dale. Sprinkle in some Cramps and Elvis Presley and Ramones. What do you get? A Psychobilly Freakout! Fans cheered and danced to the iconic Smoke 'Em if You Got 'Em number, which put them on the map nearly 30 years ago.
They kept the energy alive with "Big Little Baby" (The Full Custom Gospel Sound Of… 1993) and "Baddest of the Bad" (Liquor in the Front, 1994). But they didn't shy away from catchy new numbers like "Hog Tyin' Woman," "Perfect," and Elvis cover "Viva Las Vegas" (Whole New Life, 2018).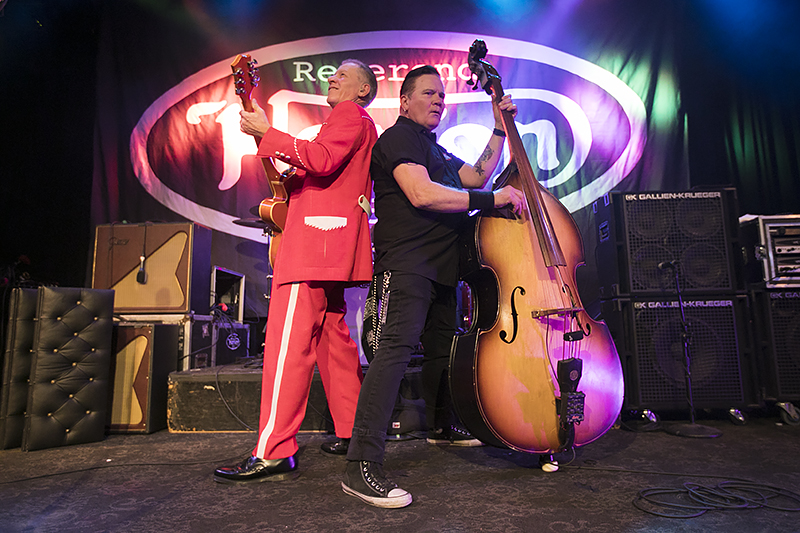 Born in 1959, Heath grew up in the '70s, just when the '50s revival was booming. Films like American Graffiti had a big influence on the man who is now considered the Godfather of rockabilly. He first played in a band called Chantilly (before being kicked out). After a year of practice, he played with a cover band called Southern Comfort. It wasn't until his college years that he discovered Austin's punk scene. After seeing The Cramps, he realized that his rockabilly roots could cross over into other genres of music. By 1986, The Reverend Horton Heat were a band. They've released 12 studio albums.
It was gig number two in San Francisco (they played Great American Music Hall the night before). And just as expected, they played a spirited set worthy of its turnout.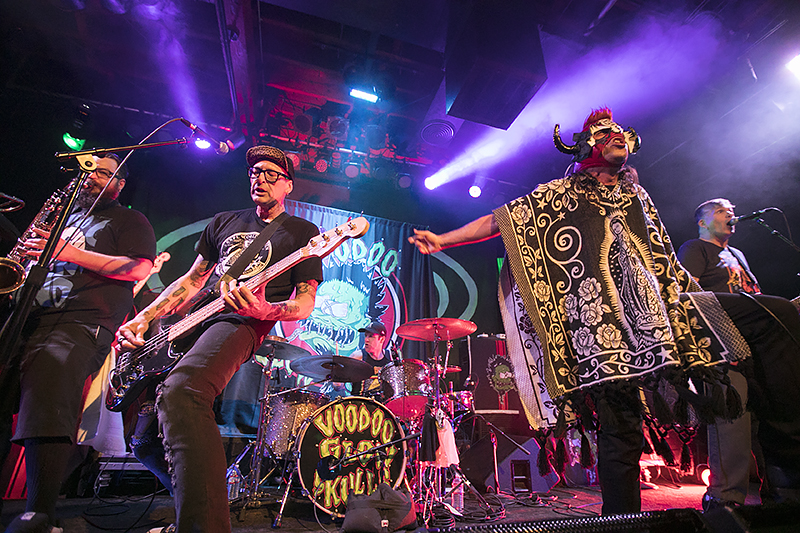 The energy didn't start and end with The Rev. Hispanic-tinged ska-punk band Voodoo Glow Skulls opened the night. Donned in a black and white poncho and luchador mask, frontman Frank Casillas jumped, kicked, sang, and threw his arms in the air. Like watching a teenage boy on Adderall, his energy was mind-boggling.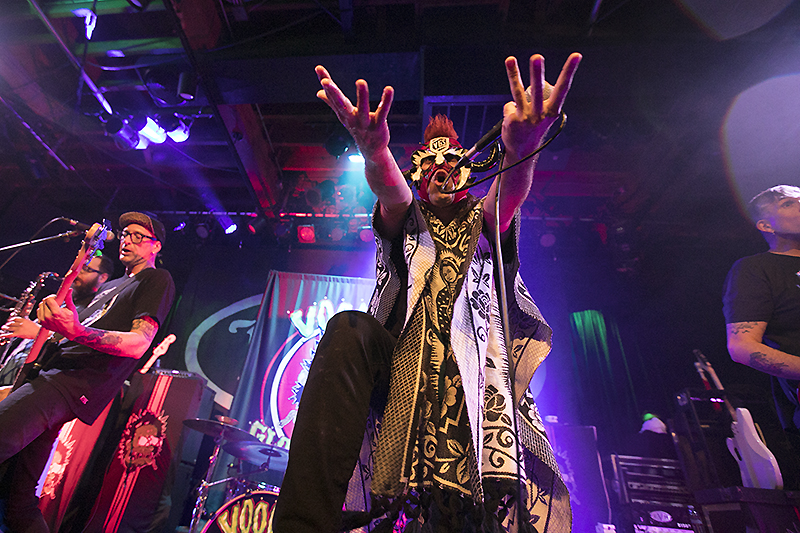 Saxophonist Eric Fazzini and trombonist Ruben Durazo played horns, sang backup, and added to the dancing fun on stage. People that strictly came for The Rev. were pleasantly surprised as they watched people pit up front. Voodoo Glow Skulls may feel young, but don't get it twisted — they're ska legends who've been playing music and throwing one hell of a party on stage for 30 years.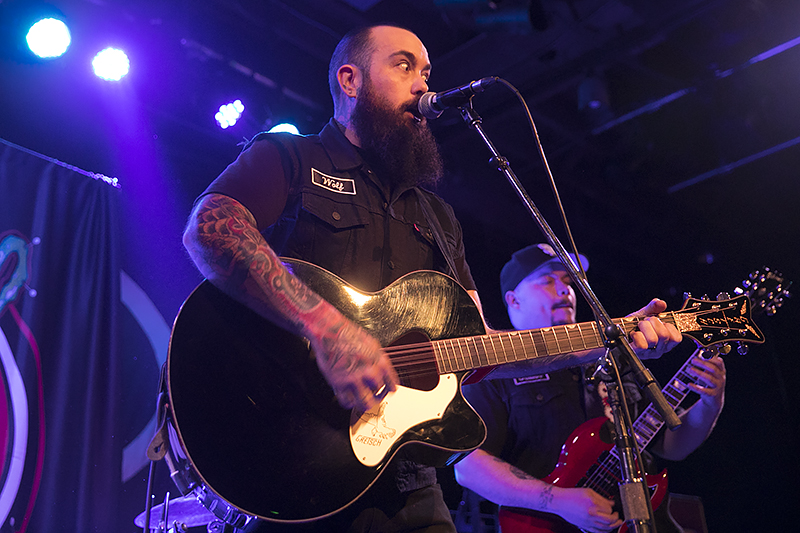 Openers Big Sandy and Delta Bombers also set the tone for one rambunctiously rip-roaring show.
For more information about Reverend Horton Heat, see his website.
Check out Voodoo Glow Skulls here.