Melvins
Cornerstone, Berkeley
January 21, 2019
Photos by Elizabeth Gohr.
You can spot King Buzzo from a mile away. Strapped with the only guitar on stage, Buzzo (Roger Osborne) gazed over the crowd through his frizzy, grey mop. Steven Shane McDonald and Jeff Pinkus plucked and pulled not one, but two bass guitars, and drummer Dale Crover pounded his kit from back-and-center.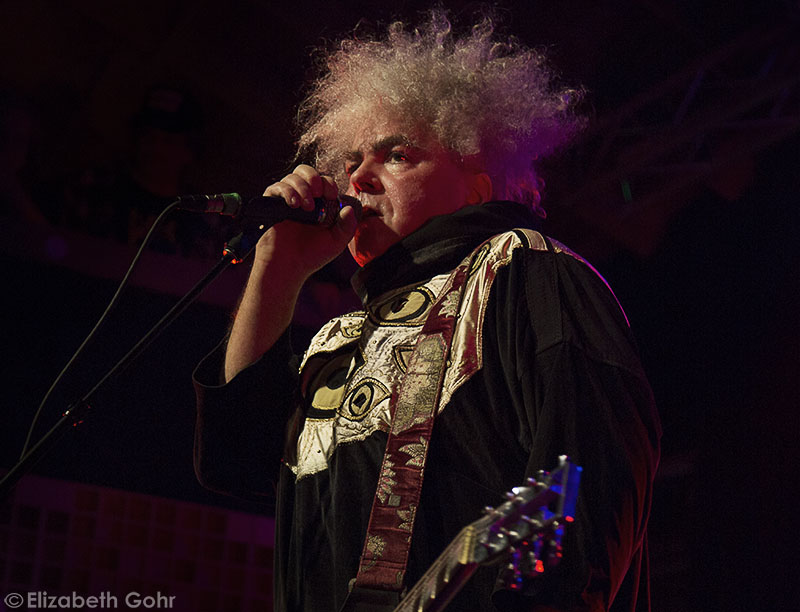 It's been 27 years since Melvins played in Berkeley — their last gig was in 1992 at Berkeley Square, a small University Avenue club that shut down in the nineties but hosted legends like The Ramones. People chatted about being at that show, declaring their lifelong fandom as they eagerly tilted forward on their tippy toes to get a better view of The Cornerstone Brewery's stage.
"This is special," said a man to the friend beside him. "We're damn lucky to see this."
It's not that Melvins don't tour. By their own estimate, they've played well over 3,000 shows. The room felt electric because the sold-out show was at a tiny, independent club with some of the best sound in the Bay. It didn't hurt that Buzzo felt close enough to touch from anywhere in the room.
A Melvins show is chock full of wild, corky mayhem, yet they put on a set so tight, you'd think they invented psych-sludge altogether. With a gigantic catalog to choose from, fans cheered to opener "The Kicking Machine" (Nude with Boots, 2008) — it was just the start to a nostalgic joyride. Buzzo stalked the stage and spastically fingered his guitar. His presence is deliberate and demanding and the crowd loved it.
Dressed in a red and black suit fit for an eighties prom, McDonald smirked at the crowd — sporadically kicking, playing on his knees, singing backup, or doing a whole headbang-dance number. No matter the moves, he played his bass as if it were an extension of his body.
Former Butthole Surfer Jeff Pinkus doubled up the bass on the left side of the stage. Melvins paid tribute to his former band, covering "Moving to Florida" (1986). Buzzo summoned the peculiar force of Gibby Haynes — stumbling to the mic and slurring the lyrics before brutally riffing and throwing his body back.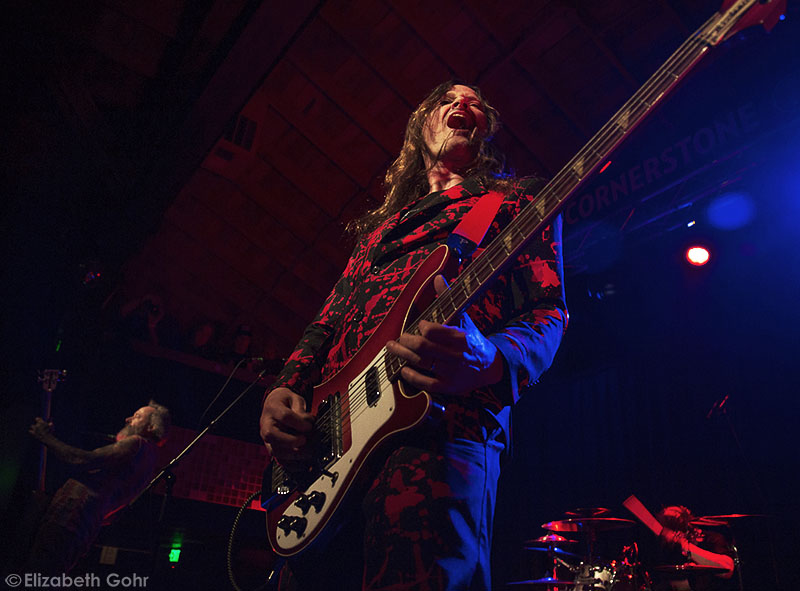 Melvins covered quite a few classics, including "With Yo' Heart, Not Yo' Hands" (Malfunkshun), "Leech" (Green River), "Stop" (James Gang), and "Sway" (The Rolling Stones). Playing a little bit of everything, Buzzo had the crowd at his fingertips the entire night — offering the goods that make them legends (Melvins have inspired acts like Soundgarden, Tool, and Mastodon).
Diehards lost their minds to "Anaconda" (Bullhead, 1991), as if they were channeling the energy from Melvin's last East Bay pit stop. Newer numbers, like "Edgar the Elephant" (A Walk with Love and Death, 2017), were just as fun though they stuck to the oldies for most of the mid-set — "Let it All Be" (The Bootlicker, 1999), "Revolve" (Stoner Witch, 1994), and "The Bit" (Stag, 1996). And generations of fans aligned at the start of classic, "Honey Bucket" (Houdini, 1993), which spawned the fattest pit of the night.
The longer they played the more people moshed. People hurled themselves through the pit. Others circled and ricocheted off each other. The packed balcony spilled over the railing. Fans threw their fists up or closed their eyes and played air guitar. There was space in the room for every type of listener and it made the energy that much more freeing.
The Washington-based band started in 1993 and has released 27 studio albums — dropping their latest record Pinkus Abortion Technician, in April. It follows last year's A Walk with Love and Death, Melvins' first-ever double album.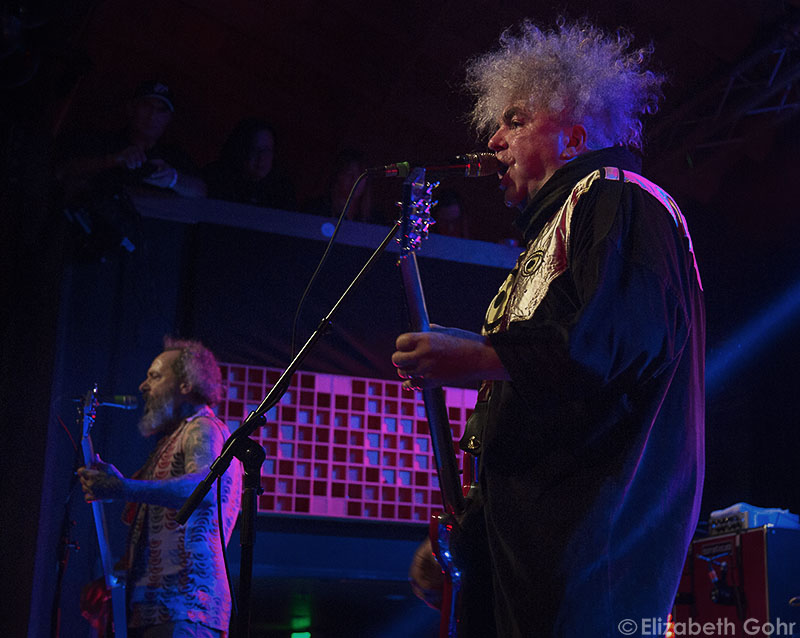 Pinkus took the lead on vocals for "Don't Forget to Breathe" (Pinkus Abortion Technician, 2018), and screamed with McDonald over Buzzo's grimy riffs. Their distinctive concoction of metal/punk/sludge felt retro yet novel. How's that even possible?
Buzzo's deranged nuttiness is charming. It's like he's in costume, though I think he's just keeping it real. Same goes for everyone else on stage. Melvins don't give a shit about what you think, and they've always created music to believe in.
Bringing the night full circle, Melvins closed with "Night Goat" (Houdini, 1993). A headlamp-donned Kevin Rutmanis joined on stage, adding a third bass to the already thick, doom-laden noise. With no encore —it's not their style — they said thanks and goodnight.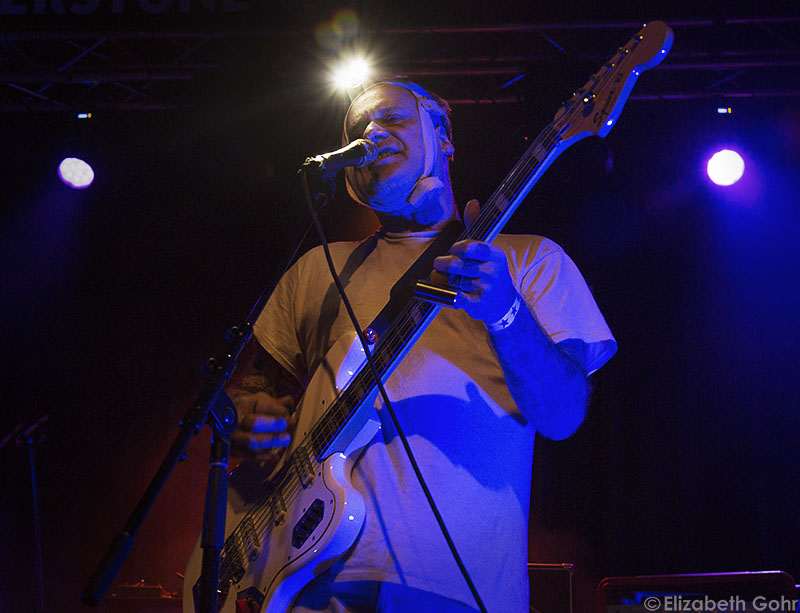 It wasn't Rutmanis' first appearance — his band hepa-Titus opened the night. A former Melvins bassist (Buzzo and Crover recruited him in the late nineties), he is also the founding member of The Cows and Tomahawk, the supergroup featuring Mike Patton (Faith No More), Duane Denison (The Jesus Lizard), and John Stanier (Helmet/Battles). Rutmanis played a baritone guitar with a slide, and the trio channeled a trippy, heavy, dissonant noise fest.
Melvins:
Setlist:  The Kicking Machine I Anaconda I With Yo' Heart, Not Yo' Hands (Malfunkshun cover) I Leech (Green River cover) I Stop (James Gang cover) Moving to Florida (Butthole Surfers cover) I Edgar the Elephant I Sway (The Rolling Stones cover) I Let it All Be I Revolve I Honey Bucket I The Bit I Don't Forget to Breathe I Onions Make the Milk Taste Bad I The Talking Horse I Evil New War God I Nigh Goat (with Kevin Rutmanis)
Find out more about Melvins here.
hepa-Titus:
Check out hepa-Titus on their Facebook page.