Maceo Parker
SFJazz
December 29, 2018
Photos by Jill Gerstenberger.
The 2018 concert season ended on a high note as Maceo Parker and his band put on a fantastic show at SFJazz. Parker, who's known as the king of the funky saxophone, has played with all the legendary leaders of funk music including James Brown, George Clinton in Parliament-Funkadelic, Bootsy Collins and Prince. He's appeared on albums from numerous artists including Red Hot Chili Peppers, Keith Richards, De La Soul, Bryan Ferry, and Jane's Addiction. Since the 1990's, Parker has toured under his own name and recorded eleven solo records and toured extensively.
It was very exciting to see such a talented performer in such an intimate venue as Milner Auditorium at SFJazz. The venue, which holds about 600 people in cushioned tiered seats, has a small wood dance floor in front of the stage which is only raised about a foot above the crowd. This gave the feeling of a small nightclub with the bonus of having great lighting and sound. Parker sounded amazing and he brought with him an extremely talented group of musicians where were super tight and funky as hell. Each member was introduced while a recording of Prince's "1999" played in the background. After a short intro they went into the Maceo tune "Off the Hook," which featured some magnificent bass playing from Rodney "Skeet" Curtis who took some solos. Parker then went on to do a super-fast version of The Duke Ellington hit "Satin Doll"; he played the entire song in about a minute.
Parker is the band leader of the group and he sings, tells jokes and keeps the band on their impeccable timing. They played a few James Brown tunes including "Prisoner of Love" and "Make it Funky," which had an out-of-this-world trombone solo from Greg Boyer. He later did a solo version of "The Look of Love," and his tone and timing are just incredible. One of the more interesting numbers was a cover of "Let's Get it On," which featured Bruno Speight on guitar soloing the notes in place of the vocals.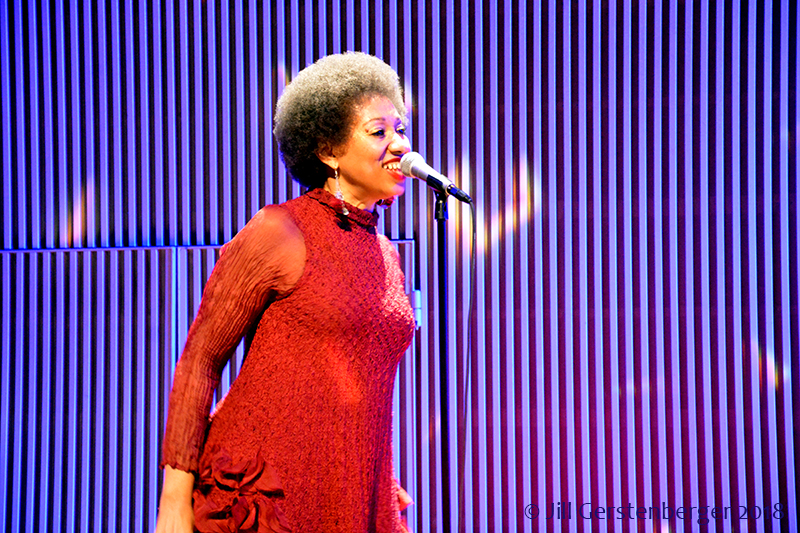 The dance floor started heating up when they played a funky version of "Cold Sweat," showcasing Pete MacLean's drumming. Another highlight was when backup singer Darlene Parker, who Maceo introduced as his cousin, belted out a sexy brash version of "Stand By Me" with hip thrusting dance moves. Maceo kept the mood upbeat throughout the evening, constantly saying, "It's all about the love," and getting the crowd to applaud various artists like Ray Charles, Prince, and James Brown.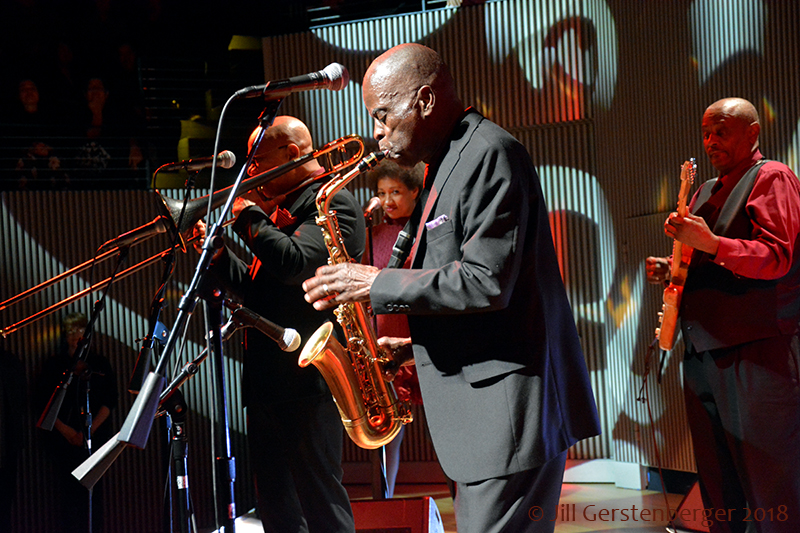 At one point he showed his love for San Francisco: "We're real proud because we have a lot of acquaintances and friends around the world, but we'd rather be here." Our favorite song of the night was an extended and funky version of the hit "Pass the Peas" that had Parker wandering into crowd to dance with a couple ladies before they got too frisky and he ran back on stage. The 75-year-old Parker still looks amazing and has unbelievable energy and never seemed to tire throughout the set. He was having a great time and the audience ate it up. These four show residencies leading up to New Years are becoming an annual event for Parker at the SF Jazz and we couldn't recommend going enough. It was just incredible.
Opening for Parker was Deva Mahal, the daughter of blues musician Taj Mahal, a real powerhouse of a soulful blues vocalist. Mahal had some great original songs about love and loss including the opener "Run Deep," which really grabbed at your heart strings. Mahal had a badass diva air about her which showed with the crown she was wearing and sexy dance moves. At one point she threw on an electric guitar and started jamming and we just found her extremely interesting and someone to watch out for. Her debut album 'Run Deep' was just released in March 2018 and we'll be sure to give this one a listen.
Maceo Parker:
Setlist: Intro | Off the Hook | Satin Doll | Prisoner of Love | Make it Funky | You Lose a Good Thing | Uptown Up | Get on Up | The Look of Love | Spanish Harlem | Let's Get It On | Cold Sweat | You Don't Know Me | Hey Pocky A-Way | Stand By Me | Funky Good Time | Over the Rainbow | Pass the Peas | Gonna Put Your Lovin' in the Layaway |
Find out more about Maceo Parker here.
Deva Mahal
Check out Deva Mahal on her website.