Graveyard, Uncle Acid & the Deadbeats, Twin Temple
Warfield Theater
March 16, 2019
Photos by Raymond Ahner
Ominous clouds settled over the Warfield on a Saturday night, bringing an eerie foreboding of things to come. The sense of a dark happening was not due to the weather, but rather the ritual of rock that was about to take place.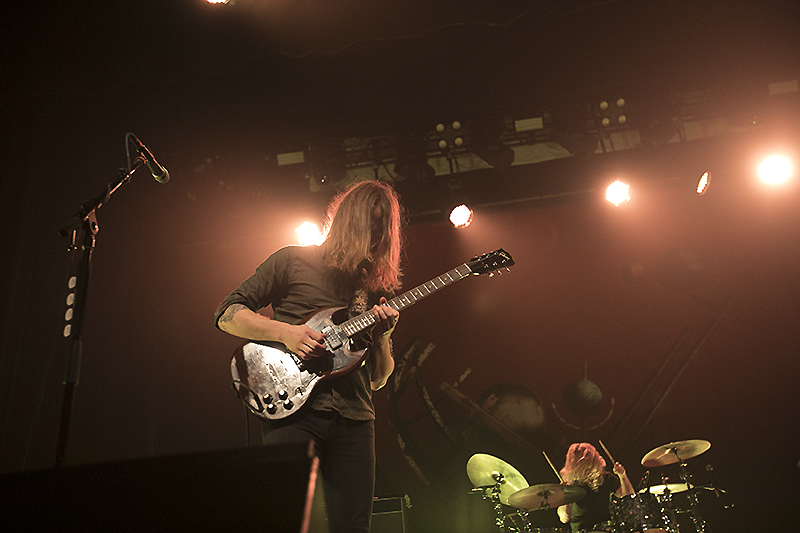 Using the Warfield stage as a cauldron, Graveyard, Uncle Acid & the Deadbeats, and Twin Temple swirled their unique flavors of occult streaked rock into a sweet tincture to be savored and imbibed by the congregation.
Headlining what has been dubbed the Peace Across the Wasteland tour, was Sweden's Graveyard. A four-piece band steeled of cold darkness and rock mined from the depths of the earth. They started in 2006 and self-immolated in 2016, only to have their bones plucked from the fire to bring Peace, their 2018 reincarnation album that is a mix of kinetic guitar-fueled hard rock energy and folky paganism.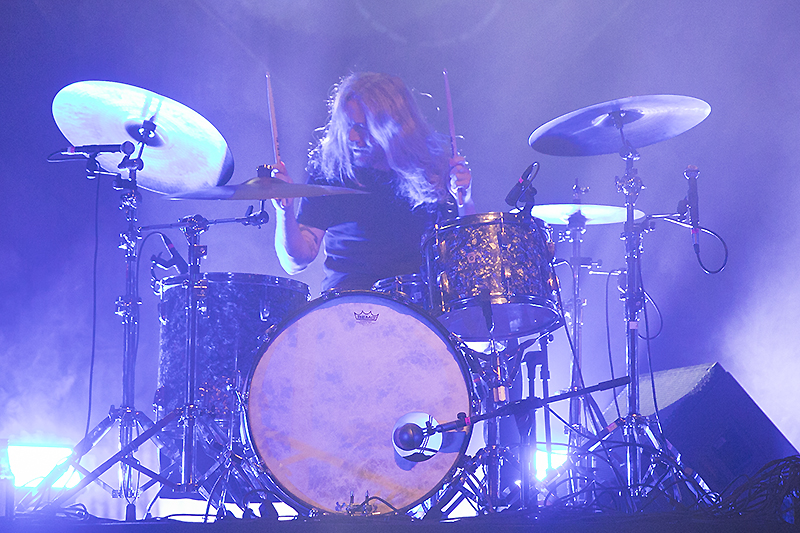 Graveyard re-introduced themselves to Bay Area heavy music fans by firing up 'Walk On,' the lead track from Peace, a tribal mix pushed by incessant tom-heavy drumming, chugging guitars, and the gravelly soulful croon of Joakim Nilsson.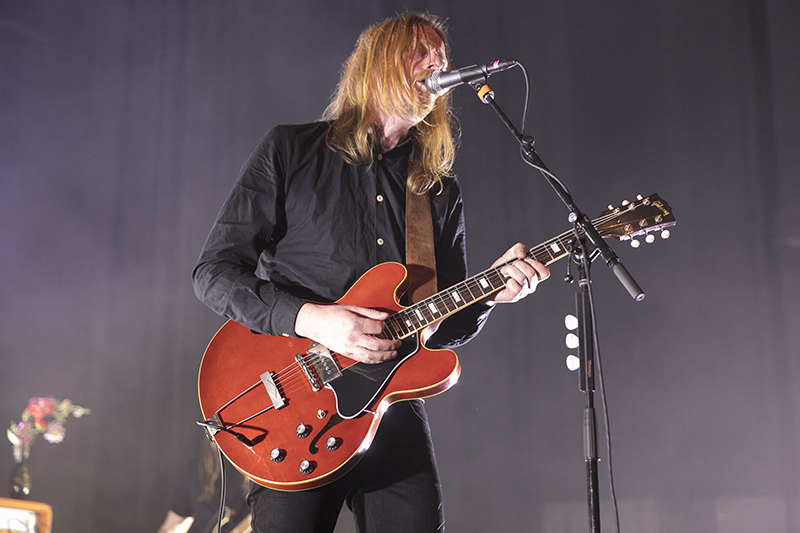 The crowd was stunned as if frozen from staring too hard into the cosmos. Following the band on their zig-zagging path along the edge of the netherworld, Graveyard spun out 'Please Don't,' with Nilsson calling out that "things were getting really weird."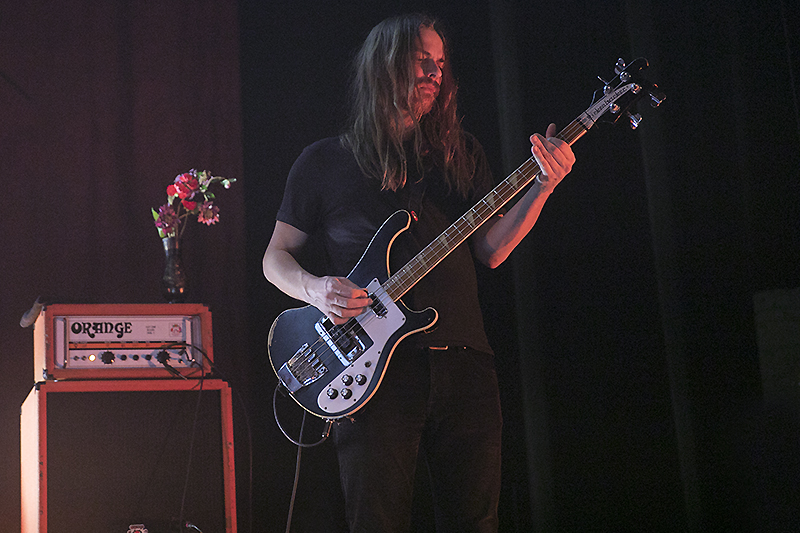 The out of control Graveyard merry-go-round brought a feeling akin to driving too fast to navigate an upcoming turn, but it was exactly at those points of the ride that they would slam on the brakes to pull over and pay homage to their garage rock psychedelic roots.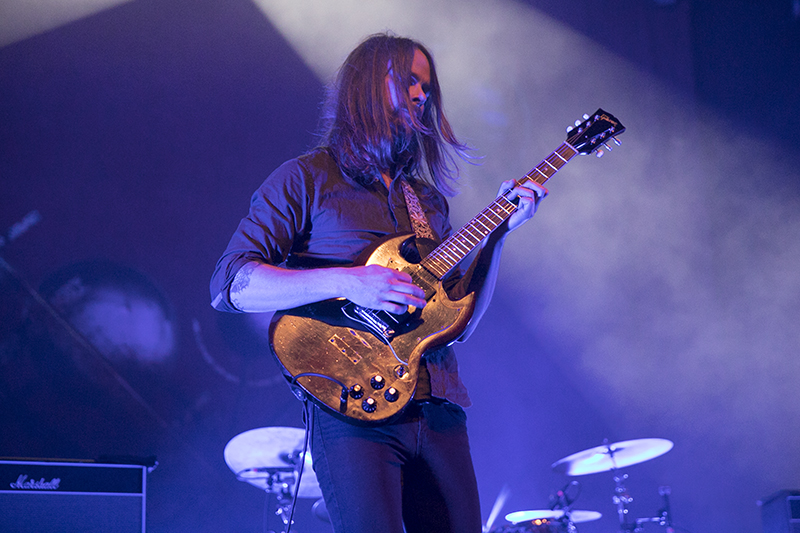 Impeccable performances of tracks such as 'The Fox' and 'Uncomfortably Numb' showed that Graveyard is equally at home having a drink with Roky Erickson as they are taking bong rips with Black Sabbath. Regardless of which lane Graveyard were driving in, the audience was right there with them. And in case you didn't see him, the devil was riding shotgun next to them with Crowley's Majick: Liber ABA tucked in his trench coat pocket.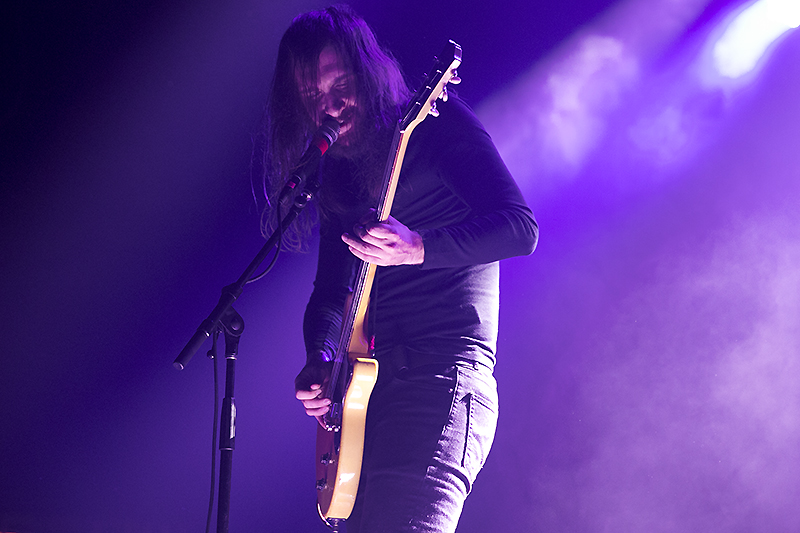 Playing the main support slot was the conjuring of evil known better as Uncle Acid and the Deadbeats. Coming at you with a dual guitar assault and a rusty switchblade, this UK quartet from Cambridge is about as dangerous sounding as a band can be.
Sinister and seductive, Uncle Acid brings a 70s fuzz-rock sound and dark imagery combining influences of Jack The Ripper and Rosemary's Baby. From the moment they turned up the volume, Uncle Acid (Kevin Starrs) and his mates annexed the Warfield to unleash their brand of mayhem and blood lust.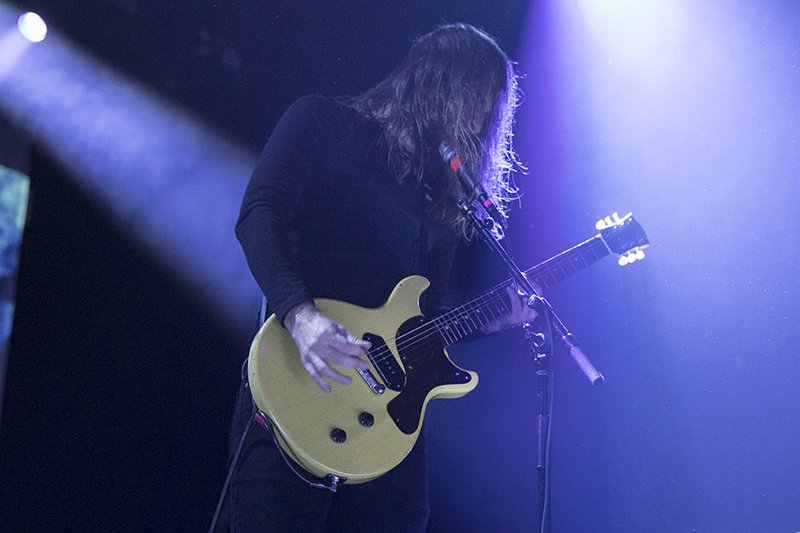 Unfurling a lilting hypnotic whine of a voice that borrows from both John Lennon and Ozzy, Uncle Acid was all business, immediately proclaiming their mission statement in the lyrics of the opener 'I See Through You' from the 2018 opus Wasteland (one of the finest heavy rock albums of the past year). "Somebody switch the oxygen off and take their games away. Somebody take the plug from the wall and let them find their own way through. I know it's you, it's the evil you do."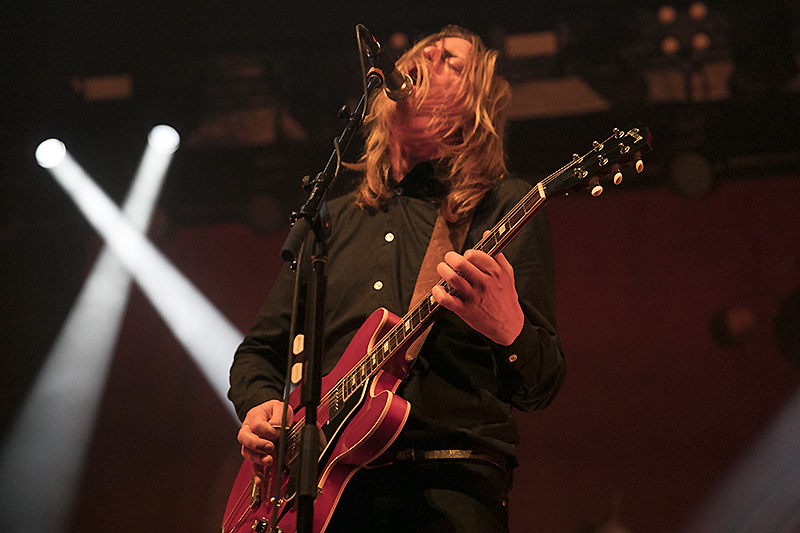 Silhouetted against a blood-splattered background projection, Uncle Acid led the Deadbeats through an hour of musical bloodletting spanning their five-album catalog and covering all angles of death, murder, psychosis, doom, and the occult.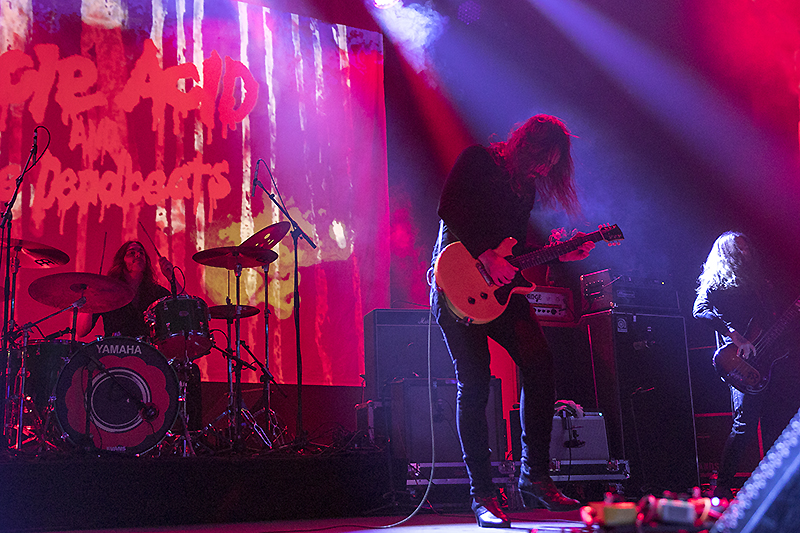 The sound for Uncle Acid was intense like the soundtrack of a late-night horror flick. Heavy and menacing, but with the clarity of a lingering nightmare, they were as impressive as they were strange. Their ending run which lurched back and forth through their history was a burst of muted color dripping from a fresh incision.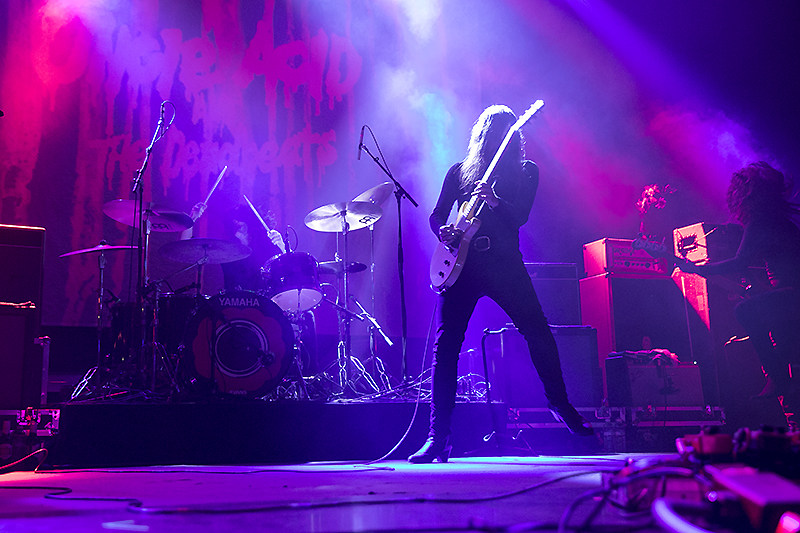 Starting with the rousing stomp of 'I'll Cut You Down,' all bets were off. Crashing through the sharp angles with 'Blood Runner' (which animated the zombie waltz of the crowd into a violent pit) and colliding into the seductively grinding groove of '13 Candles,' the room was spellbound by the musical oddity of Uncle Acid.
It was as if Starrs and company were peddling narcotic oxygen with the audience needing and calling for more. Closing out the set was an incoming storm of doom and gloom. If 'Melody Lane' (evoking an image of the glint of a streetlight on a plunging dagger striking skin) was the formation of the clouds, 'No Return' was the shroud slowly being pulled over the bodies bloated from the storm.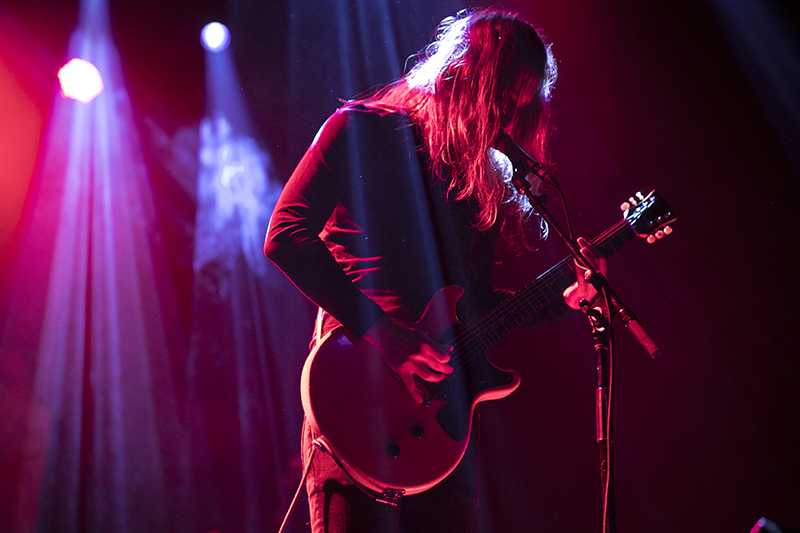 Uncle Acid kicked much ass, and the devil was the creepy leering guy in the corner wearing a top hat and handlebar mustache and asking if you wanted to drink with him.
First to the stage to toll the death bell was a manifestation of allure and magnetism of a very different and unexpected sort. Twin Temple, hailing from the SoCal city of sin Los Angeles, a is Satanic doo-wop group (yes you read that right…and they are self-proclaimed Satanists).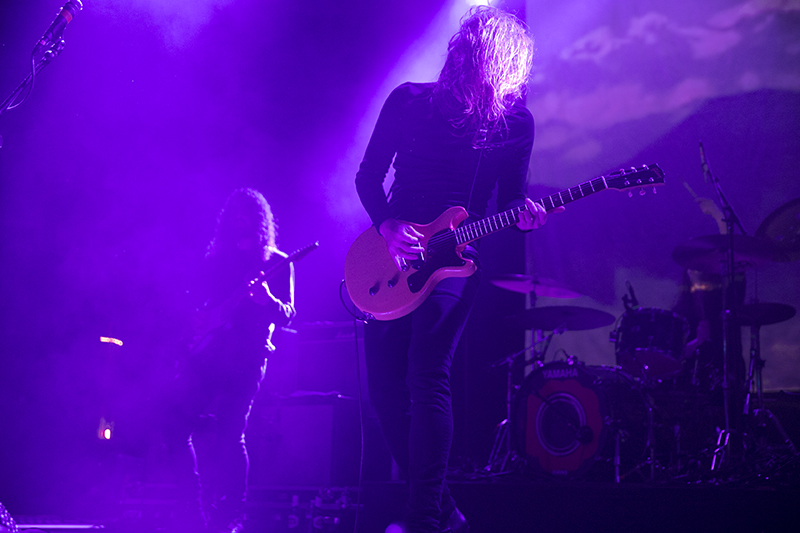 Combining ritual and spectacle, husband and wife Alexandra and Zachary James lead a band that actually swings. Twin Temple broke out of the box with 'The Devil (Didn't Make Me Do It)'. Unleashing a voice that reminds quite a bit of Amy Winehouse, Alexandra captivated the assembled crowd, prompting them to apprehensively sway and move. By the end of it they were under her spell, soaking in the dark side. The devil was a 50's pinup girl with candy apple red lipstick and a sporting a patent leather Kate Spade clutch.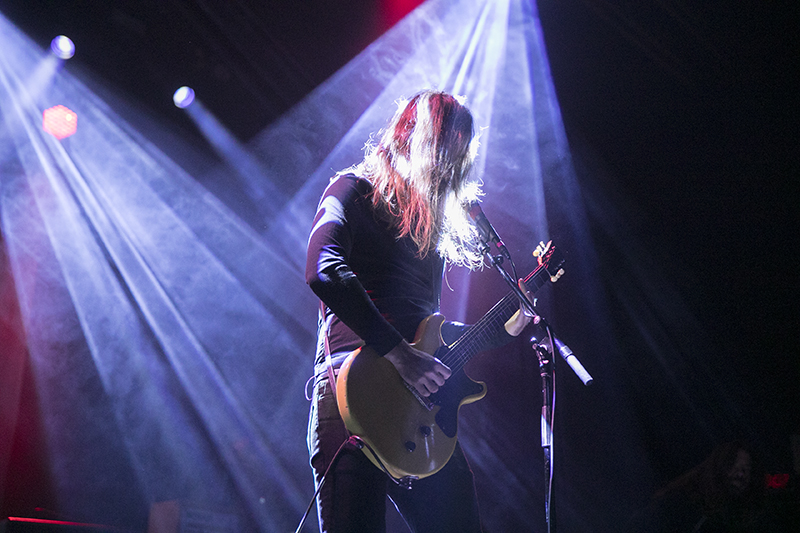 Twin Temple does retro in a demonic wrapper that makes this well traversed musical territory (most notably early 60s acts produced by Phil Spector) fresh. There is a black humor and some real talent  shown by this band, and you should go see for yourselves as they will be headlining their own show at the Bottom of the Hill in June.
Graveyard:
Setlist: Walk On | Please Don't | The Fox | Hisingen Blues | Uncomfortably Numb | Bird of Paradise | Cold Love | Buying Truth (Tack & Förlåt) | Hard Times Lovin' | An Industry of Murder | The Suits, the Law & the Uniform | Goliath | Magnetic Shunk || Low (I Wouldn't Mind) | Ain't Fit to Live Here | The Siren
Find out more about Graveyard on their Facebook page.
Uncle Acid & the Deadbeats:
Setlist: I See Through You | Waiting for Blood | Mt. Abraxas | Mind Crawler | Death's Door | Shockwave City | Crystal Spiders | Dead Eyes of London | Pusher Man | I'll Cut You Down | Blood Runner | 13 Candles | Melody Lane | No Return
Check out Uncle Acid & the Deadbeats on their website.
Twin Temple:
Setlist: The Devil (Didn't Make Me Do It) | Lucifer, My Love | Sex Magick | I Know How To Hex You | I'm Wicked | In Lvx | Femme Fatale | In Nox
Everything you want to know about Twin Temple can be found here.