Dead Meadow
The Chapel
March 1, 2019 
Photos by Elizabeth Gohr
Dead Meadow (DM) played The Chapel in San Francisco this past week, and though it seems like they were just here yesterday to assault the grey matter of those sharing physical space with them, it had actually been nearly a year. Therefore, the opportunity to experience them again was embraced as being long overdue.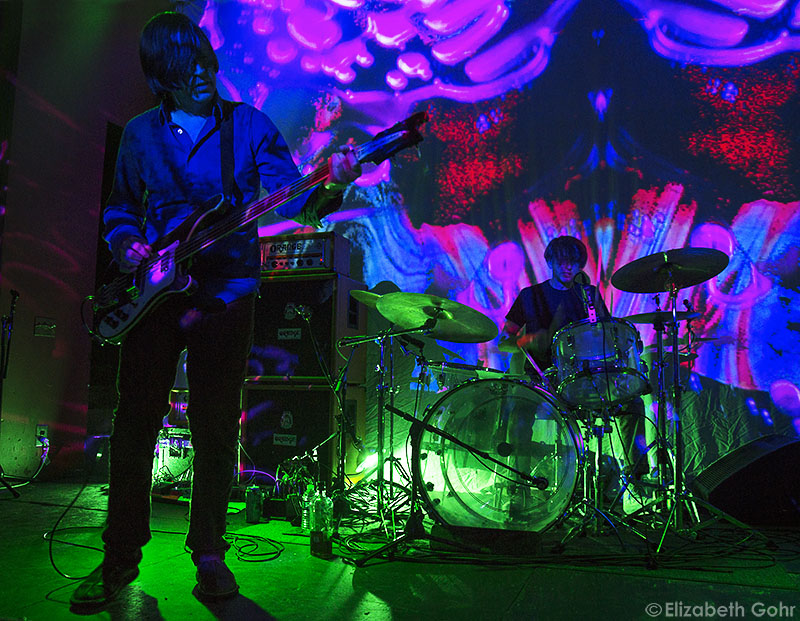 A fascinating psychedelic stoner rock monster from Washington D.C., Dead Meadow (Jason Simon – vocals and guitar, Steve Kille – bass, and Juan Londono – drums) came in the same sparkly wrapping that they usually do, complete with fuzzed out wah and a barrage of colored gel projections to fuel the trip. Though they are still supporting their 2018 release The Nothing They Need (as they did last time around), this experience was altogether different yet the same.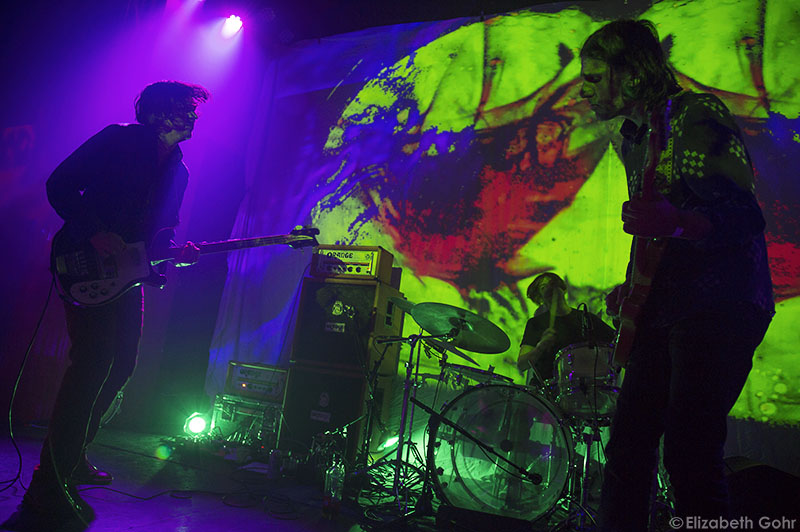 When Simon finished setting up his guitar pedals and customarily left a looping meander of notes hanging in the air, the crowd pushed to the front and the anticipation was palpable.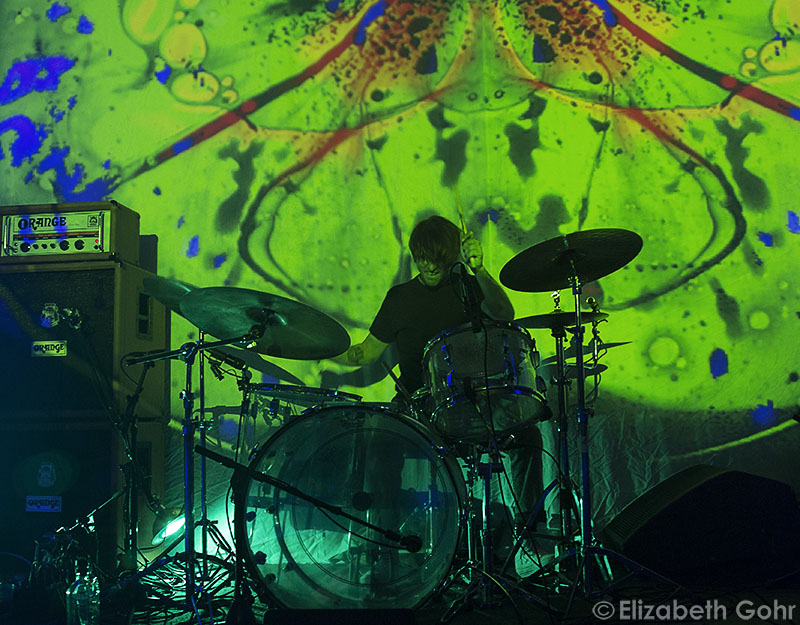 A father and his ten-year old son made their way up to the stage next to where I was perched, with the dad proudly proclaiming that Dead Meadow was about to be his son's first show. An auspicious entrance into the universe of live music for sure, though he later said the boy's mom may have a different interpretation.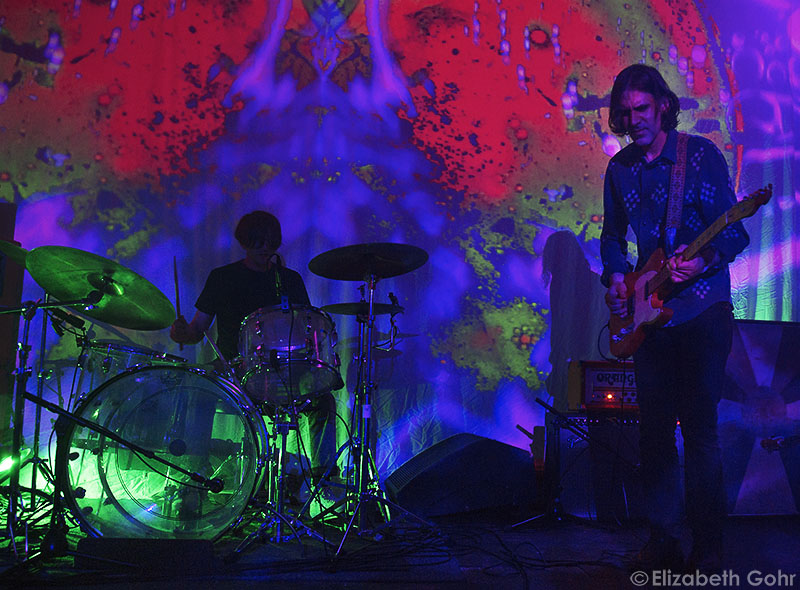 When DM re-emerged on stage each of the players took his position and bass player Steve Kille settled in with his bottle of whiskey and beer, signaling that the set was about to commence.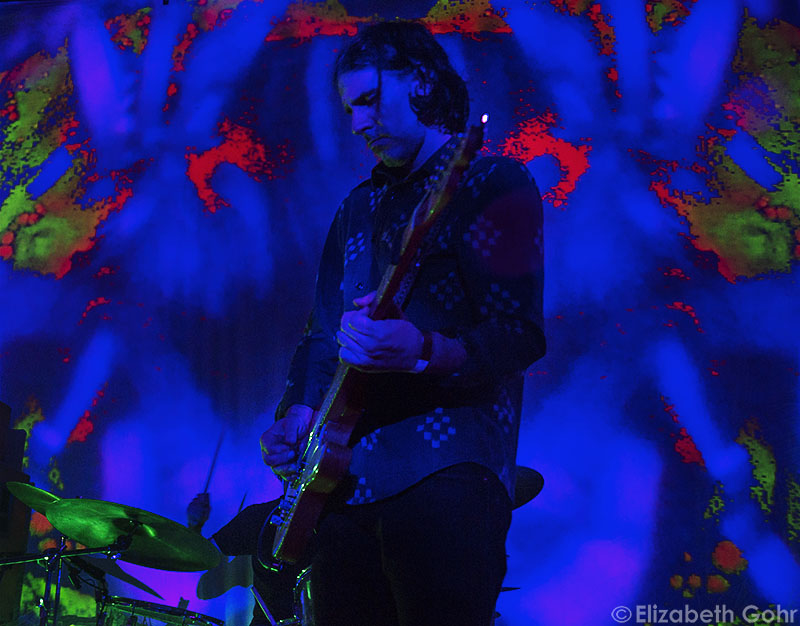 The crowd banter was then gobbled up by a swell of swirling volume as DM launched the festivities with their classic 'Greensky Greenlake', an instrumental epic from their self-titled debut album from way back in 2000.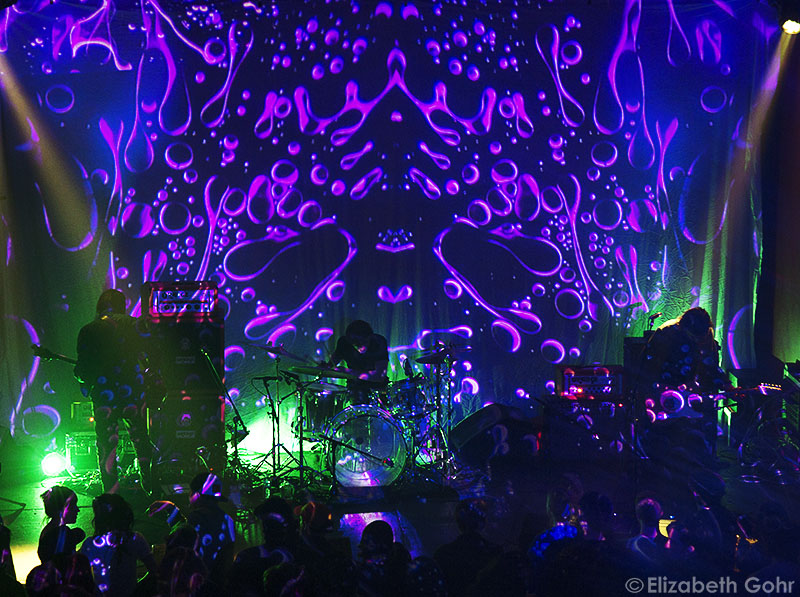 Watching a rocker dad explaining to his son what Dead Meadow was about to do emphasized how crazy it is that this band has been together so long. As the evening progressed DM cherry picked from their catalog of nine studio albums, blasting out their earlier brand of fuzz-drenched dreamscapes in the form of older tracks like  'What Needs Must Be,' and 'Sleepy Silver Door,' interspersed with the new psych-outs like 'Keep Your Head' from their latest recording.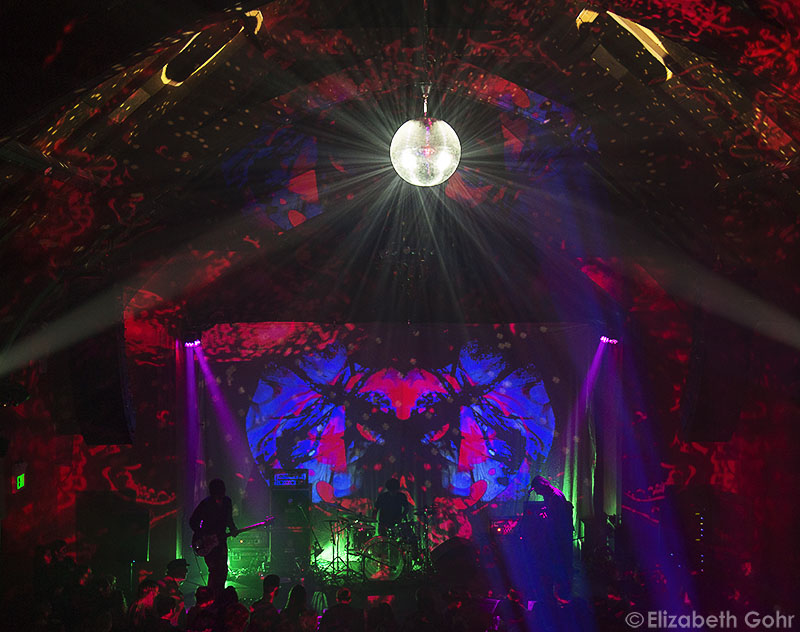 In the end, Dead Meadow warped the room with a psychedelic trip that was the perfect soundtrack for a rainy San Francisco evening. At the merch table in the lobby, fans new and old sifted through the selection of Dead Meadow vinyl classics. The rocker dad that was up front at the stage bought his son the 2008 album Old Growth, while telling him that it was released when his son was born. Dead Meadow bonding father and son….now that's some good rock.
Opening for Dead Meadow was Dallas Acid a synth-based trio from Austin, TX that sounded like the background music for an avant-garde silent student film. Very somber and minimalist in their approach, their ambient soundscapes seemed a bit lost on the room full of rockers.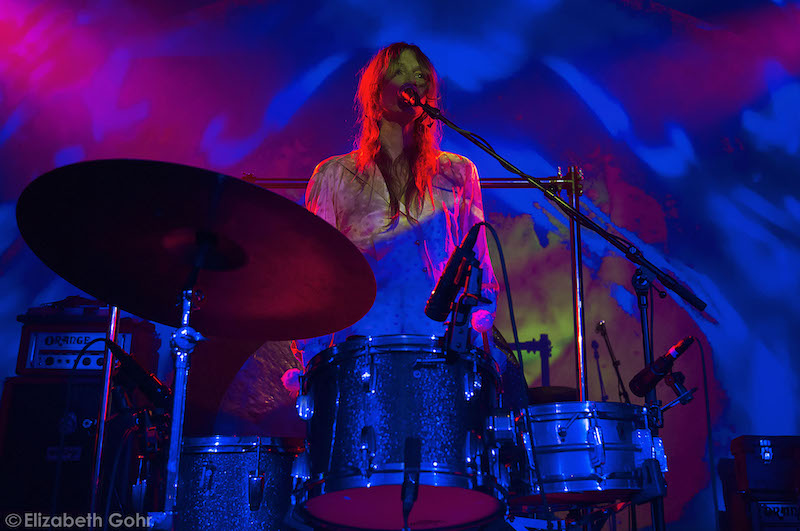 Dallas Acid seems like they are a new twist on new age music. Leaning heavily on multi-layered synthesizers and nearly no percussion, any energy they presented was of a very muted nature, however it seems that they prefer it that way.
They seemed to promote a more immersive environment where the music sets a mood for the crowd to interact. Their performance art style of presentation induced the crowd to drink and talk to each other and look around the room rather than stay fixated on the stage.
For more information on Dead Meadow, see their website.
Find out more about Dallas Acid here.