Petaluma Music Festival
Sonoma-Marin Fairgrounds, Petaluma
August 6, 2022
Buy Tickets
Returning for its 15th year at Sonoma-Marin Fairgrounds The Petaluma Music Festival is a highly anticipated annual event that draws music lovers from across Northern California and features nationally touring musicians as well as the 'best of the best of the bay'.
To celebrate its 15th year of raising money for local music education, The Petaluma Music Festival is pulling out all the stops with a line-up guaranteed to please every musical pallet. Returning to the festival stage is American singer- songwriter, and frequent member of Phil Lesh and Friends, Jackie Greene. Greene's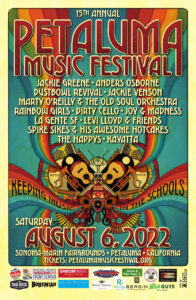 ability to croon soulful piano ballads or shred a bluesy guitar jam makes him a festival-goer favorite. Also, on the bill is 'true musical treasure,' Anders Osborne. Hailing from New Orleans, Osborne's intensely emotional vocals and piercing guitar work have earned him honors such as Entertainer of the Year, Best Songwriter, and Crescent City's Guitarist of the Year.
New to the festival stage this year are the "joyful, booty-shaking soul songs and cut-to-heart folk-rock ballads" of Dustbowl Revival, also known as "Adventurers in folky funk." Another new addition to the scene this year is Jackie Venson. Raised on classical piano and a graduate of Berklee School of Music, Jackie Venson has taken the festival scene by storm. After switching to guitar in her last year at Berklee, she was drawn to the music of Buddy Guy, Sade, and Alicia Keyes. In 2019 Forbes magazine claimed Venson was on her way to becoming "an Austin legend." She is an incredibly versatile musician who makes giving the crowd a great show her number one priority.
The Petaluma Music Festival boasts three stages where guests can check out many more talented bands and performers that round out the day-long festival. Bay area favorites Marty O'Reilly & The Old Soul Orchestra, Rainbow Girls, Dirty Cello, and more will keep the good times and great vibes going as the music-loving community comes together to add to the nearly half-a-million dollars already raised throughout the festival's history.
The Petaluma Music Festival is a 501c3 organization, its mission is Keeping Music in Our Schools. More information at www.petalumamusicfestival.org