Resonant Body
Octo Octa
T4T LUV NRG
Earlier this year, Octo Octa (a.k.a Maya Bouldry-Morrison) released the personal and uplifting For Lovers EP via Technicolour, which celebrated themes of unity, healing, and love through the optimistic prism of rave. That definitive tone, a resounding thicket of breakbeat, electro, and house, purposely swims upstream against the "banal fuckery" happening in most electronic music today. That unapologetic conviction persists on her upcoming Resonant Body LP landing September 6th.
Bouldry-Morrison, who came out as transgender in 2017, recorded the songs at her cabin in New Hampshire to channel the peaceful forest, the beauty of the river, and the energy from the rituals she conducts within it.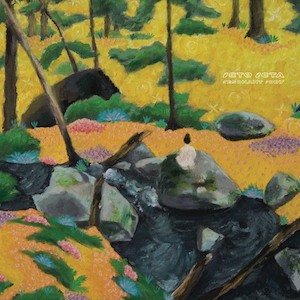 Written and produced at the end of December 2018, the creation process followed a year of constant touring, and an intense and magical year of change.
The album is the second release on T4T LUV NRG, a rowdy upstart new label co-run by Bouldry-Morrison and Eris Drew, following Drew's June mix tape, Eris Drew Raving Disco Breaks Vol 1 . The artwork created by Maya's partner, Brooke, painted two canvases after a spectral day-trip Brooke, Eris, and Maya took earlier this year on the "Sweet Trail" in New Hampshire.
The label shall give 50 percent of the profits to the Sylvia Rivera Law Project, which works to guarantee that all people are free to self-determine their gender identity and expression, regardless of income or race, and without facing harassment, discrimination, or violence.
Tracklist: A1. Imminent Spirit Arrival | A2. Move Your Body | B1. Deep Connections | B2. Spin Girl, Lets Activate! | C1. Ecstatic Beat | C2. Can You See Me? | D1. My Body Is Powerful | D2. Power To The People
Listen to "Spin Girl, Let's Activate!" by Octa Octa:
Check out Eris Drew Raving Disco Breaks Vol. 1: